A mature student, with the additional complications of financial commitments and familial ties needs support to make sense of her options and to navigate a crowded, uncertain and changing job market.
by Sam Maher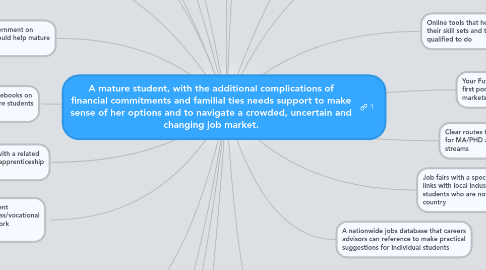 1. A mature students' network to provide an informal way to talk over concerns with people in the same boat
1.1. Online portal and discussion boards
1.2. Social events
2. Register of paid internships and voluntary positions that students and exiting students can apply for
2.1. vetted by the university so able to have confidence
2.2. given ratings by students who have worked with them in the past - measure of trustworthiness
2.3. work placements carried out during semester breaks carry credits that can count towards a qualification
2.4. database searchable by which degree courses might find this experience particularly useful for future job applications
3. Students from a university given preferential access to job openings within the institution they graduated from
4. Buddy/mentoring system
4.1. Alumni who have gone into the career area the student would like to pursue
4.2. Members of doctoral research staff who can help with the entry process for MA/PHD
4.3. employers who are looking for graduates from particular disciplines
4.4. community outreach/social enterprise sector
4.5. alumni who have moved to a new area of the country and are willing to act as a point of contact in a new town
5. Able to gain a separate, concurrent qualification that includes business/vocational training, life skills training and work placements
6. Part time university course with a related part time work placement - apprenticeship route.
7. University published books/ebooks on subjects of interest to mature students entering the job market
8. Lobby the government on policies that would help mature students
9. Regular employers talks
10. Profiles of what it is like to work in different industries available on the careers advisory website
11. Mature student only graduate schemes
12. Postgraduate funds that are only open to mature students
13. Universities to share best practice on careers advisory and mature student support systems
14. Clear routes to find the information you need for MA/PHD application process/funding streams
15. A Mature Students' Advisors as members of university and Student Union staff
15.1. Proactive outreach to mature students
15.2. Regular counselling sessions to talk through any issues
16. Job fairs with a specific focus on the local area - create links with local industry and also provide connections for students who are not at liberty to move all over the country
17. Your Future - University one stop shop and first port of call for information (e.g. job markets, continuing in education etc)
18. Vocational and life skills training in addition to the academic course options
18.1. Business skills for freelancers
18.1.1. Accounting
18.1.2. Client relationships
18.1.3. Working from a brief
18.2. Confidence and self-esteem
18.3. Non-academic/course specific training carry credits that can count towards a qualification
18.4. How to improve your employability - seminars given by employers, perhaps
19. A nationwide jobs database that careers advisors can reference to make practical suggestions for individual students
20. Age specific recruitment agencies - e.g. those looking for people aged 40+ - positive discrimination
21. Online tools that help students to assess their skill sets and the sorts of jobs their qualified to do
21.1. this links to live job opportunities
22. A blog written by mature students at the university, linked to from the Mature Students' section of the institutions website
22.1. have an interactive Q&A that students can use to raise issues they'd be interested to see written about
22.2. link to and from the online portal and discussion boards - social networking site with a niche focus
23. Help completing a Continuing Professional Development record