C Prog Language
by
Mayur Patil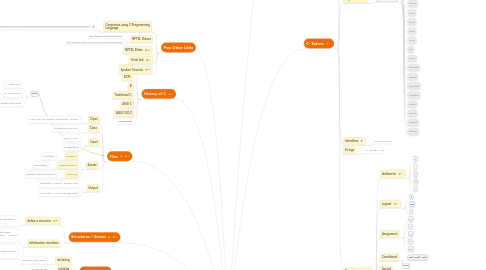 5.0
stars -
6
reviews range from
0
to
5
A container or memory place to hold data-tems.
Part of the language construct.
Derived Type
Derived from the existing datatypes.
User Defined Types
Datatypes defined by the user.
Design on Paper
Ms. Divya Khanure
mode
r - read only
w - write only
a - appending data
Collection of characters.
Concatenation
Copying
Length
Built in function in ctype.h
Special Symbols (Delimeters)
Identifiers
May be varible or a function name or array varibale.
Strings
Operators operate on operands.
Expression may be constant or a variable or a combination of these connected by operators.
Arithmetic
Conversions
Mathematical Functions
Input/Output
Read and Write statements.
Formatted
Unformatted
Used to control the flow of execution.
conditional
goto
Used to repeat the task (set of statements)
continue (skip)
Set of similar data items. Ex: Set of integers.
A set of instructions to do a particular task.
types
definition
Function calling itself
Pointer is a varibale holding an address of another variable.House Number (addr) : Pointers Members in a house: Values House Name : Identifier
declaring
initialize
Collection of related records.
Open
Close
Input
Access
Output
Structure is nothing but a record.It is a user defined datatype or collection of dissimilar data-items.
initialization members
ALGOL
BCPL
B
Traditional C
ANSI C
ANSI/ ISO C
Dennis Retchie
Few Other Links
Companies using C Programming Language
NPTEL Videos