Social Networking: Market and Build your Business - Scott Stawarz © 2009 - Octāvity
by
scott stawarz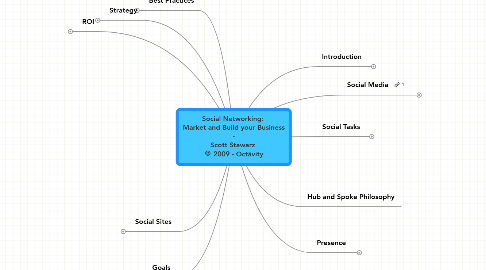 0.0
stars -
0
reviews range from
0
to
5
Social Networking: Market and Build your Business - Scott Stawarz © 2009 - Octāvity
Introduction
Who am I?
Scott Stawarz
Harper College CE Technology Instructor
Principal Instructor - Octāvity
Microsoft Certified Trainer - 10 years
Today's Plan
What do we have to accomplish by the end of the day?
What is Social Media and the Social Web Landscape?
What is my current Social and Internet Presence?
What are the Social Media Tasks?
What are Goals?
What Social Tools and Websites should I use?
How do I measure my success?
Video
What is it to be Social
communication
people
interaction
engagement
Conversation
Internet Marketing Channels
http://www.seomoz.org/blog/a-checklist-to-choose-which-internet-marketing-channel-is-right-for-your-business
Social Tasks
Listen
Target Markets, Can Look for Influencers, Twitter, Facebook, Youtube Accounts, Can Look for EndUsers, Potential Prospects, Current Customers
Competitors, Who's complaining about our competitors?, How can we fix their issues?
Listening Tools, Google Alerts, TweetBeep, Radian6, Micro Communities
What are my Goals?
Identify "talkers", influencers, endusers
Build Relationships
Participate
Types of Status Updates or Tweets, Classic: I'm Doing this now, Opinion: I think this now., Done: I just did this., Entertainment: Ha. That was funny., Question: How to do?, Picture, Video, News, Special Offers, Repetition of Core Branding Message, Team Communication, Help Desk or Customer Service, Interact with Fans or Evangelists, Big Focus Groups
Write Blog Articles
Comment on other 3 to 5 Blogs a day.
Update Twitter Status 5 to 8 times a day.
Update Facebook Status
Post Videos
Post pictures to Flickr
Participate in Forums
Search for people
Involve the community to participate in room dividing discussions.
Provide Value, Shorter Term Promotions for those who follow us., Shorter Term Promotions for people who link to us.
Brainstorm more Ideas
Hub and Spoke Philosophy
Presence
Where are we?
Where is our competition?
How?
See Analytics
Goals
Drive to Site to Sell
Drive to Mall to Sell
Drive to Affiliate LInks
Drive to Registrations
Build Social Proof
Visible Buzz, How many Link to you, Number of Comments, Number of Downloads
Site Ranking
Social Widgets, Twitter
Famous People Pictures
Awards, Links, Mentions
Expert Recommendations
Testimonials
Social Sites
Blog
Wordpress, Self-hosted, wordpress.com
Typepad
https://www.blogger.com/
http://www.movabletype.com/
Friend vs. Fan, http://www.searchenginejournal.com/facebook-group-vs-facebook-fan-page-whats-better/7761/
Personal Vs. Business
Group vs. Page, http://mashable.com/2009/05/27/facebook-page-vs-group/
Security, http://mashable.com/2009/04/28/facebook-privacy-settings/, http://www.makeuseof.com/tag/the-complete-guide-to-facebook-privacy/
Who to Friend?, Example Policy
Advanced Customization, FBML, Facebook Notes, Blog RSS Reader, Twitter Integration, From Twitter, To Twitter, It Depends, Flash Player, others
Twitter Background Design
Twitter Guides, http://business.twitter.com/twitter101/, http://mashable.com/guidebook/twitter/
Beware of Spammers
Twitter Web Uses, http://trackdailygoals.com/, http://tracklifetweets.com/, http://tweetwhatyoueat.com/, http://www.rasmussen.edu/articles/creative-uses-of-twitter.asp
Twitter Applications, TweetDeck, HootSuite, Cotweet, Seismeic, iphone, tweetie, tweetdeck, Twitterific, Wefollow, Twellow
Other LifeStreaming
Tumblr
Posterous
http://profiles.yahoo.com/
Video
Youtube, You Tube Channel, http://mashable.com/2009/08/02/customize-youtube-channel/, http://webworkerdaily.com/2009/07/28/34-ways-to-use-youtube-for-business/, Comments, Will it Blend
Photos
Flickr, Tagging, Groups, Technically not Business Acceptable, Creative Commons
Podcasting / Audio
http://www.blogtalkradio.com/
Resume / Networking
http://www.brazencareerist.com/
http://www.linkedin.com/
Social Bookmarking
Others:, http://www.instapaper.com/u, http://pinboard.in/
Aggregation
Digg
Reddit
stumbleupon
Niche, FoodBuzz
Hyper Location
Yelp Reviews
Google Locations
Angie's List
NEW Upcoming Social
Geolocation, http://foursquare.com/
Augmented Reality, Yelp Reviews
Traditional Methods
http://answers.yahoo.com/
http://stackoverflow.com/
Google Groups
GetSatisfaction
Newsgroups
Forums
Other
myspace
last.fm
pandora
plaxo
on and on and on
ROI
What are the criteria that is important to your business leaders?
Measure where are we now and measure any other benchmark data.
Possible metrics, RSS subscriptions, Referring Sites, Search Engine Placement, Search Term / Keywords, Page Views, Bounce Rate, Returning Visitors, Pages per Visit, Retweets, Conversation Index, Engagement, most difficult to measure
Web Analytics
Engagement Analytics, ClickTale.com, http://www.4qsurvey.com/en/, http://www.crowdscience.com/
OffSite, Quantcast, compete, Alexa, Google Trends
Define our Goals.
New Leads | Sales
Reduce Negative Comments
Increase Visitors.
Conversion Ratio?
New Registrations
Engagement., Total Number of Comments, Total Number of Conversations
Inbound Links
Think What are the baby steps to achieve said goals?
Determine the cost of participation.
Objectives
Action costs
Programs Implemented Cost
Software Tools cost
Measurement costs
Some of it is: Build it and they will come.
Strategy
Build Following
Follow people you already know
Tweet your blog
Add your Social Networks to your Traditional materials
Business cards
letterhead
websites
Commercials
Advertising
Pay for your Followers
Contests
Special offers
Participate in other requests
Case Studies
http://www.penn-olson.com/2009/09/07/3-successful-small-businesses-on-social-media/
http://www.scribd.com/doc/16316521/300-Case-Studies-of-Social-Media-Marketing
Best Practices
Slow and Steady, don't expect immediate results.
Long Term Time Horizons!, Very Rare over night success.
Always Provide Value to our Audience
Be Consistent and Stick to a Content Creation Schedule, 
"same bat time, same bat channel"
Always be creating meaningful lasting content
Avoid fungible content.
Be mindful of our goals.
Be Yourself
Tell the Truth / Transparent to some disagree
Leave the market speak to your traditional Marketing
Social Task Suggestions
http://www.problogger.net/archives/2009/09/24/confessions-of-a-blogger-slide-deck/, Demonstrate Authority, Build Trust, Be Useful, Build Community, Be Personal, Tell Stories, Be Unique, Be Relational, Leverage What You Have, Craft Content, Ask Questions, Be Playful, Be Transparent, Doesn't mean give away the secrets, Be Accessible, Be Passionate, Promote... but not too much, Viral Promotion, Social Proof, Use Familiar Mediums, Email, Voice, Mailings, Be Prolific, Persist