Higher ambitions
by
Steve Saffhill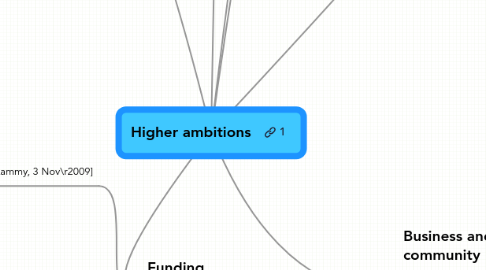 0.0
stars -
0
reviews range from
0
to
5
Universities used to be elitist and colleges were vocational
Business and community engagement
Community engagement
Access to HE
Active ageing and universities (Feb 2010), Education can improve quality of later life, Open University and Birkbeck College, around 20 per cent of their graduating students are aged 51 or above.
Universities to\rprovide intellectual\rleadership, RDAs to have role in coordinating
Internationalism, Align with Government's diplomatic and cultural agenda, International Education Reasearch Advisory Forum, Student recruitment, Global challenges, Encourage study abroad, Overseas collaboration
Economic growth
Skilled people are the country's biggest asset [Mandelson, 3 Nov 2009]
Business and community engagement, Building new partnerships, Businesses must do more to reinforce the HE system [Mandelson, 3 Nov 2009], Universities to become more flexible to business demand, Communicating knowledge: How & why UK researchers publish & disseminate their findings, Business people to play bigger role as members on academic boards, Businesses tapping into HE resources, How employers and trainers cooperate to build successful companies (Guardian supplement, Feb 2010)
Universities must illustrate how they enhance students' employability, Emphasis on employability and higher skills [Mandelson, 3 Nov 2009], Delivery through flexible study and workbased learning [Mandelson, 3 Nov 2009], Develop skills for new methods of delivering services (New Industry, New Jobs, Apr 2009), Ensuring that our economy is driven by high levels of skills and creativity (New Industry, New Jobs, Apr 2009), Such information should be publicised for potential students, Worries about mis-selling courses (Streeting, NUS Nov 2009), The consuming student (focussed on the material aspects of learning experience), Value for money, Wants high quality materials, To download and manipulate in her own format, Wants access to resources 24 hours a day, Wants access to Tutors more than a couple of times a term for 20 minutes, The non-consuming student (Study is an exercise of style and not substance), Would never sacrifice his own beliefs to get a better grade, Knows that lecturers think he is way off the point, Thinks he should get higher marks for creativity and persistence, Rarely visits the library, Just uses resources in his possession (like core textbooks), Often misses classes and isn't too bothered, Is frustrated with lecturers that don't help when bumping into them in a social environment, Students more interested in what course qualifies you to do rather than quality of learning (University Lifestyle Survey, 2010), UKCES to coordinate and advise on skills shortages
Postgraduate provision, Funding and meeting the sectors' needs is being reviewed by Prof Adrian Smith
HEFCE to devise new funding incentives to promote new vision, Build on the Higher Education innovation Fund, Linked with New Industries, New Jobs strategy (April, 2009), STEM subjects
Research
Concentrate and reward research excellence in key areas, New forms of collaboration inter-university and with industry, Mobile researchers working between academia and business, Greater use of shared services to manage and commercialise intellectual property, Support new models of collaboration between universities [Lammy, 3 Nov 2009], Measure the impact on economy and society[Lammy, 3 Nov 2009], should be pursued with extreme caution (Peter Williams, QAA, Nov 2009), "It is a highly doubtful proposition that a student that goes to a university or attends a course that is rated 'poor', or not as good as others, should actually have less money devoted to them, fewer books in the library and worse student-staff ratios,", it would be "very difficult" to link institutional funding to measures of teaching and learning performance (Paul Ramsden, HEA, Nov 2009), Australia's national Learning and Teaching Performance Fund, which distributes money on the basis of teaching information, had proved to be controversialAustralia's national Learning and Teaching Performance Fund, which distributes money on the basis of teaching information, had proved to be controversial, The NSS may be used to determine the quality, No direct correlation between volume and excellence (University Alliance, Dec 2009), THE comment
Improving access to HE (NB: the role of FE\Colleges in this will be set out in detail in the National Skills Strategy later in 2009)
Encourage high performing pupils from low income backgrounds
"What we are saying is that nobody should be disadvantaged or penalised on the basis of the families they come from, of school they attended and the way in which simple assessment based on A-level results might exclude them," (Mandelson, Nov 2009)
The plan will be published early 2010
Black, Asian and Minority Ethnicity recruitment is improving, but not for Oxbridge (Universities and race, Mar 2010)
Promote a broader range of course models rather than 3-year degree
It's not about expansion, but the right kind of expansion (Mandelson, Feb 2010)
"Different course models can lower the cost of student support" (Mandelson, Feb 2010)
Part time
Vocationally-based
Work-based
Mature students in the workplace, Student age will increase
Greater flexibility in delivery
Entry to courses should not be on exam grades
Aptitude
Potential
Teaching and learning
Reward teaching excellence
Professorships
Universities must publicise the nature and quality of courses, HEFCE, QAA and UKCES to advise
Position of External Examiners strengthened
Become world\rleaders of e-learning
Critically important to maintain the quality of learning - particularly the use of new technology [Lammy, 3 Nov 2009], Extend the interaction, not just with the students, but with the whole community, Students are not consumers (McCulloch, 2009 p177), An overemphasis of one aspect of the students' role and of the academic institution's mission, Suggests undue distance between student and educational process, Encourages the passive student, Fails to encourage deep learning, Implies in the student a level of knowledge and information and the possession of tools to use them that are unlikely to be present, Serves to deprofessionalise the academic role (encourages the entertainment model of teaching), Make the educational experience a product rather than an experience, Reinforces individualism and competition at the expense of community, Community of practice in learning (Prof Frank Coffield), Learning process is not a delivery of production, but rather as induction, Helping the induction process, Supporting self-organising study, University of Manchester, Bournemouth University, How does the HE workforce need to change? (HEFCE Feb 2010), Flexibility whilst maximising talent and commitment, Rewarding pay and conditions without financial risk, Sustainable pensions forum, How much do contracts need to change?
Lynne Brindley (CEO of British Library) to lead task force, Identify opportunities for investment and innovation in universities, colleges and private sector, Seedcorn funding for university-private sector partnerships, Develop pedagogy and not just information management [Lammy, 3 Nov 2009], Taskforce includes Microsoft, Apple, British Council, HEFCE, JISC and BBC later on
JISc Strategy 2010-2012, Developing flexible MIS, Improving shared services amongst institutions, Cloud computing to improve efficiency and flexibility, Lead innovation, JISC Advance to help with feedback mechanisms, Market intelliigence, Communication, New node, Impact
State of play in Universities (Social Media in HE by Jadu, Feb 2010), Limited restrictions to social media, Benefits and future use
HE and FE must have an integrated agenda [Mandelson]
Colleges should be equal to universities
Increase social mobility in\rworkforce
Funding
Universities must increase\rthe proportion of private\rinvestment [Lammy, 3 Nov\r2009]
International revenue, The ability to develop international learning resources, America, Asia
Alumni
Industrial collaboration
Donations
Learning exports
Student fees
The more funds drawn from these revenues, the stronger the institution will be (Mandelson, Feb 2010)
Check funding letter (Dec 2009)
A review of student fees will happen in the near future