Cyberwellness and 1-to-1 Learning Environment
by
Jermyn Wee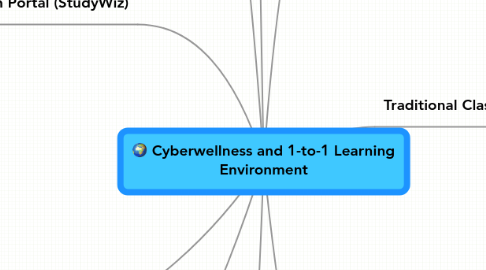 0.0
stars -
0
reviews range from
0
to
5
Cyberwellness and 1-to-1 Learning Environment
Education Portal (StudyWiz)
Podcast
Online Assignments
Educational games
The assessment and classwork should allow for 'Section B' type of questions and answers.
A one-stop webpage to consolidate admin and learning portals for teachers, parents and students.
Expand "userability" of the portals i.e. add more functions
Asynchronous discussion forum
Email system
Notes uploaded to studywiz so students can access notes 24/7
AUP
better reinforcement
How to monitor?
Fault Reporting System
Infringement Follow Up Report??
ALL teachers must be aware of the AUP and must play a role in enforcing the expectations.
Do they know?
Operational but slow sometimes
Learner Development Prog
Requires more enforcement
Educate teachers to understand LDP better
Teachers need to be aware of LDP
Workshop for LDP in Contact Time
To give more publicity and air-time to create awareness
ICT Enrichment Prog
To understand what applications has been taught
SOWs for ICT applications to be known for teachers
To make use of what they have learnt
Differentiated Level of ICT knowledge
Common platform for students to ease teaching
Boot Camp
Schedule and carry out according to plans
to cater to the needs of students who have high level of ICT skills
Spare a thought for technology immigrants - ensure that ICT enrichment courses commensurate with skill level
Traditional Classroom Design
Too packed with lockers
Need bigger classroom
Difficulty to see IWB from the back of the classroom
MIMIO as the substitute?
Power Track
Layout
Do we need traditonal tables and chairs? Too big and bulky.
flexibility for rearrangement of furniture into clusters of learners format to allow movement for changing activities and group discussion
Should NOT make wholesale changes - a traditional classroom still has a place in a modern learning environment = do NOT throw the baby out of the window with the bath water!
Classrooms are passe
Learning takes place anywhere
Students can learn from home
Breakdown the walls of traditional schools
1 to 1 learning
Using 21st CC to make use of Wilnote to teach
MIndset of Teachers still set for Conventional Teaching
Let them see the power of ICT in teaching and learning. If there is a positive difference, teachers will try
Bridging programme for 2010 S3 repeat students and parents to instill need of greater self-discipline in the proper use of PLD for learning
Would PLD help the repeat student?
School bag weight-watching exercise
Need to be systematically carried out
Internet Research could be done out of classroom time such that the classroom face-to-face sessions with teacher-facilitator and other fellow learners could be maximised for critical collaboration
More stringent monitoring of pupils' activities during lessons
Promote and enforce! the use of e-books.
Cyberwellness
Cyber Addicts
Teach self-discipline?
School Counsellor provides support programme
Teach time management skills
Need parent and teachers to identify these pupils., Too late to help them when only told after exams
Hall Assemblies to enhance cyberwellness
More Personal Account of People
Dialogue with Teachers and Parents
Reflective documentation of Teachers and Parents
Apple Remote Desktop
remind teachers periodically how to use ARD
E Bulletin Board
To showcase cyberwellness and desseminate information on CyberWellness
Cyberwellness to be viewed as a part of School Culture and Values
Online test to re-certify the currency of the pupils to be on the 1-to-1 prog
A component of the CME grade could be taken from this online test
Introduce cyberwellness topics on a systematic basis
Cyberwellness taught during RME lesson
Network Infrastructure
bandwidths that can support the extensive use of internet connection
assured electricity supply ?
ensure fewer occurrences of server disruptions
Technical Support
Promptness and Availability
Apple Service Centre
AV Resource Technician
Media Specialist
On-going Weekly Meetings with partners
Systems to monitor Bandwidth