Chapter 8, Test Taking
by
Jasmine Coley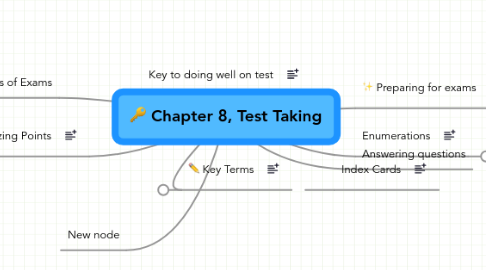 0.0
stars -
0
reviews range from
0
to
5
Chapter 8, Test Taking
Key to doing well on test
The key to doing well on test is to be very well prepared. Go to class consistently, take notes, and study notes daily.
Key Terms
When taking notes, always right down key words and use examples.
Index Cards
Use index cards to make study cards, which can help with memorizing key terms
Enumerations
Enumerations are a list of words
Examples of Enumerations
Causes of the First World War. Reasons why people join groups Methods of waste disposal Kinds of defense mechanisms       All heads have words that end with an S.
Emphasizing Points
Phrases such as the most significant, of special importance, and the chief reason, are all used to catch the attention of the reader.
Points
Focus on areas the instructor has concentrated on the most. Study areas the instructor has advised you to study.
Preparing for exams
When preparing for an exam do the following. Review notes Be prepared. For example have paper, pens, pencils, and other material. Be on time for the exam. Don't sit near talkitive people. Read all directions for starting the exam. Keep track of time.
Types of Exams
Objective Exams
Objective exams include multiple choise, true false, fill-in, and matching questions.   Hints to follow Answer easier questions first. For harder questions, sometimes the information in other questions on the test will help with the answer to harder questions. Answer all the questions. Guess when needed. Try to think how the instructor might think. Circle or underline key words in difficult questions. Use all time given on the test. Recheck answers.
Answering questions
New node