EDUC 476 Teaching in Content Area, SS
by Ron Hicks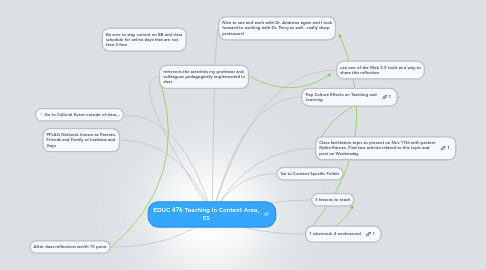 1. PFLAG National, known as Parents, Friends and Family of Lesbians and Gays
2. After class reflections worth 10 point
3. reference the activities my professor and colleagues pedagogically implemented in class
4. Go to Cultural Event outside of class...
5. Be sure to stay current on BB and class schedule for online days that are not face-2-face
6. use one of the Web 2.0 tools as a way to share this reflection
7. Pop Culture Effects on Teaching and Learning
8. Class facilitation topic to present on Nov 17th with partner Rickie Karnes. Find two articles related to this topic and post on Wednesday.
9. 5 lessons to teach
10. Nice to see and work with Dr. Andrews again and I look forward to working with Dr. Perry as well...really sharp professors!
11. 1 observed, 4 unobserved
12. Go to Content Specific Folder