Jessica's Environmental Science Mind Map
by
Jessica Curry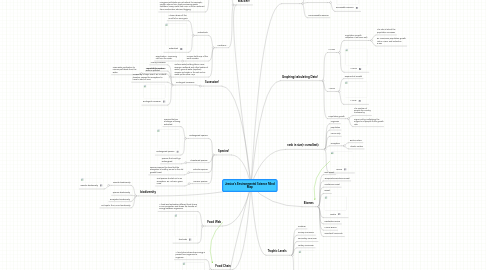 5.0
stars -
2
reviews range from
0
to
5
Jessica's Environmental Science Mind Map
Biomes
Rain Forest
Temperate Deciduous Forest
Coniferous Forest
Desert
Tundra
Freshwater Biome
Marine Biome
Grassland/ Savannah
Trophic Levels
Producer
Primary Consumer
Secondary Consumer
Tertiary Consumer
Decomposers
Food Chain
A food chain shows how energy is passed from organism to organism.
food chain
Food Web
A food wed embodies different food chains in one ecosystem and shows the transfer of energy between organisms.
food web
biodiversity
Genetic biodiversity
Species biodiversity
Ecosystem biodiversity
Hot Spots- the MOST biodiversity
rank in size(1=smallest):
Organism
population
community
ecosystem
Biome
Species!
Endangered Species
Threatened Species
Indicator species
Pioneer Species
Sucession!
Ecological Sucession
Graphing/calculating Data!
S curve
J curve
Population growth
Ecosystems...
A climax community is the most species the ecosystem can support
All ecosystems have limiting factors... to keep the population from reaching carrying capacity
Carrying capacity is the the maximum number or organisms in a species that the ecosystem can support if it reaches carrying capacity the ecosystem will begin to die from lack of resources!
Ecosystem
WATER!!!
Water Pollution
Locations...
Resources
Natural resource
Renewable resource
nonrenewable resource