Marketing Channels: The benefits and limitations
by Emmy chotalal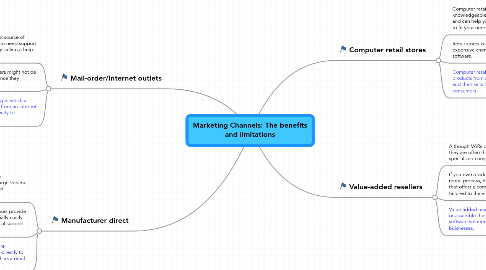 1. Computer retail stores
1.1. Computer retail store employees are often knowledgeable about a variety of computer products and can help you select a hardware or software product to fit your needs.
1.2. Retail stores can be a fairly expensive channel for hardware and software.
1.3. Computer retail store- Purchases computer products from a variety of manufactureres, and then sells those products to consumers.
2. Mail-order/Internet outlets
2.1. A mail-order supplier is often the best source of products for buyers who are unlikely to need support or who can troubleshoot problems by calling a help desk.
2.2. Inexperienced computer users might not be satisfied with with the assitance they recieve.
2.3. Mail order-is a special type of retailing in which a vendor takes orders by telephone or from an internet site, and then ships the products directly to consumers.
3. Value-added resellers
3.1. Although VARs charge for their expertise, they are often the only source for specialized computer systems.
3.2. If you own a video rental store and want to automate the rental process, the best type of vendor might be a VAR that offers a complete hardware and software package tailored to the video retal buisness.
3.3. Value added resellers- generally modify products or assemble them into complete hardware and software solutions targeted at specific buisnesses.
4. Manufacturer direct
4.1. A company's sales force usually targets large corporate or educational customers,where large-volume sales can cover the sales representative's cost and commissions.
4.2. The disadvantage is that the maufactuer must provide customers with technical support-a potentially costly service that requires large teams of technical support personnel.
4.3. Manufacturer Direct- refers to hardware manufacturers that sell their products directly to consumers without a middleman, such as a retail store.