[R] R: A Language and Environment for Statistical Computing
by
Claude Falguiere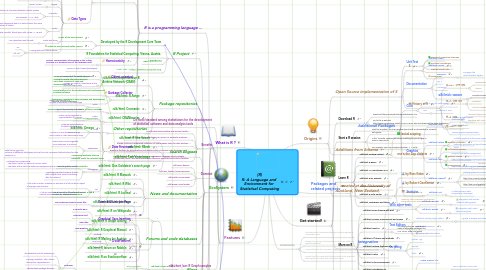 5.0
stars -
1
reviews range from
0
to
5
This is just a demo map that you can delete right away, if you feel like it...
Packages and related projects
Additional Packages
Integration
Based on R
Get started!
Start a R session
Learn R
More on R
Other
Features
De facto standard among statisticians for the development of statistical software and data analysis tools
Benefits
Domains
R Graph samples
Origins
Open Source implementation of S
created at the University of Auckland, New Zealand,
EcoSystem
Package repositories
Search Engines
News and documentation
Forums and code databases
Blogs
Conferences
Commercialized versions
What is R ?
R is a programming language ...
... and a software environment ...
... for statistical computing
R is a Free Software
Comments
This document has been written by Claude Falguière in December 2009
Please let me know if information on this map is false or need be updated
Associated post for comments : http://claude-falguiere.blogspot.com/2009/12/r.html
Thanks to all the Web sites that are listed in the map and were usefull to collect and verify information