RSS Technology
by
David Ridge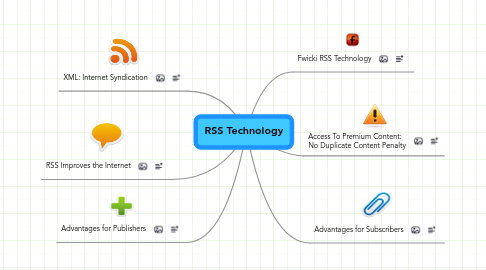 5.0
stars -
1
reviews range from
0
to
5
RSS Technology
Access To Premium Content: No Duplicate Content Penalty
RSS technology is the syndication mechanism of the web. It enables online publishers to provide easy access to their site content, products, and services. RSS-XML provides the mechanism whereby site owners can pull highly-optimized, relevant, target-specific content for their audience. Most website platforms (including WordPress, Joomla, and Drupal) have features in place that generate RSS feeds automatically. These feeds are made available on the website or blog. Public access to RSS feeds enable third-party webmasters and subscribers to retrieve the feeds and thus the content. RSS feeds can be used on "third-party" web sites without duplicate content penalties. Why is this important? Because it increases the overall quality of the content that can be presented on a given website. Suppose a webmaster has a blog about astronomy. The option of pulling dynamic content and media which is directly related to astronomy will increase the quality of the blog, as well as the quality of the user experience. Some SEO professionals maintain that there can be advantages related to carefully importing the right content for your audience via XML.
Advantages for Subscribers
RSS is all about the "end-user". The list of benefits for the subscriber are many and include the ability to have targeted content delivered without the need to surf the Internet. In addition to adding control over the data delivered, local and web-based RSS readers provide a media-rich experience while parsing the feeds in a "user-friendly" format. Subscibers can easily manage and control the content they receive online through careful selection of top information feeds. Webmasters can also benefit from RSS as a subscriber. As previously mentioned, site owners can capture highly-relevant, topic-based information that give additional value to their site, their audience, and the Internet at large.. all without a duplicate-content penalty.
XML: Internet Syndication
What is XML? XML is a markup language for documents containing structured information. Why XML? In order to appreciate XML, it is important to understand why it was created. XML was created so that richly structured documents could be used over the web. The only viable alternatives, HTML and SGML, are not practical for this purpose.
Advantages for Publishers
Publishers benefit from RSS in several ways. RSS allows publishers to syndicate their content, products, services, and media. RSS enables publishers to expand their readership without requiring subscribers to continually return to their web site. Syndication of site content, products, and services through XML allow publishers to distribute their feeds to various feed libraries, databases, and RSS feed repositories. This enables publishers to distribute their site content globally.. with relative ease. RSS enables publishers to share their most valuable content. RSS gives third-party publishers a compliant mechanism whereby they can retrieve content from established authority websites and boost the relevance of the third-party site by including the content within the third-party site. There is also some speculation among SEO experts that a certain amount of benefit is gained by the third-party site when associating itself with the authority site providing the feed. If this hypothesis is correct, RSS provides a unique way to form associations with authority sites on the Internet.
Fwicki RSS Technology
The Fwicki RSS Mashup application is one-of-a-kind. It allows RSS publishers and subscribers to significantly increase their involvement in syndication technology without the need for extensive RSS & SEO training. Fwicki is a global leader in RSS management, and RSS mashup technologies. In fact, Google now offers the Fwicki application as the definition of RSS mashup technology and also lists Fwicki within the definition of social bookmarking. Google this: define: rss mashup technology and this: define: social bookmarking      
RSS Improves the Internet
RSS and XML technologies improve the Internet. RSS provides benefits for the end-user, publisher, subscriber, and webmaster. RSS and XML technologies are ideal for creating dynamic streams of pertinent data while filtering the content that general Internet users must sift through when searching for topic-related information. RSS allows users to subscribe to information streams without having to continually re-visit the website of origin. Dynamically delivered content, media, and information is key to the effective use of the Internet.