Introduction to E-commerce
by
Sean K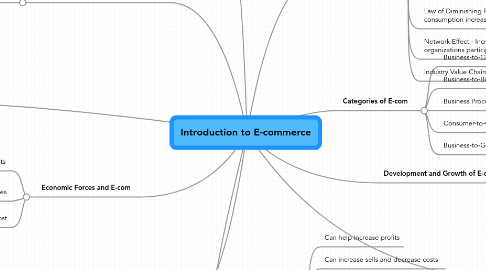 0.0
stars -
0
reviews range from
0
to
5
Introduction to E-commerce
Simple Definitions
Electronic Commerce - business trading with other businesses and internal processes that companies use to support their buying, selling, hiring, planning, and other activities.
Electronic Business - the transformation of key business processes through the use of Internet technologies.
Transaction - Exchange of value, such as a purchase or a sale
Commodity item - product/service that is hard to distinguish from the same products provided by other sellers
Strategic Business Unit - a particular combination of product, distribution channel, and customer type
Strategic Alliance - stable relations with other companies based on shared purposes
Law of Diminishing Returns - Characteristic of most activities to yield less value as amount of consumption increases
Network Effect - Increase in value of a netowrk to its participants, which occurs as more people or organizations participate in the network. Ie: what email was in terms of value and what is it today
Industry Value Chain - Larger stream of activities in which a particular business unit's value chain is embedded
Categories of E-com
Business-to-Consumer (B2C)
Business-to-Business (B2B)
Business Processes
Consumer-to-Consumer (C2C)
Business-to-Gov. (B2G)
Development and Growth of E-com
Electronic Funds Transfers (EFTs)
Electronic Data Interchange (EDI)
E-com Waves
First Wave
Sceond Wave
Advantages of E-com
Can help increase profits
Can increase sells and decrease costs
Well done advertising on the Web can be powerful
Used to reach small groups of clients that are geographically scattered
Increases purchasing opportunities of the buyer
Can be used to identify new suppliers and business partners
E-com increases speed and accuracy with which businesses can exchange info
Electronic payments can be easier to audit and monitor then non electronic payments, better security
Disadvantages of E-com
Newness and rapid growing pace of tech. may cause some business to be unable to keep up.
Some products are extremely hard to sell online, ie: food items
Cost to get started and to maintain tech. can be high
Many businesses can face cultural and legal barriers to conducting E-com
Economic Forces and E-com
Transaction costs
Markets and Hierarchies
Reducing transaction cost
Value Chain Management
Primary Activities
Secondary Activities
Identifying Business Unit Opportunities
SWOT Analysis
Internation Nature of E-com
Trust issues on the Web
Language Issues
Cultural Issues
Culture and Government
Infrastructure Issues