PAPER THREE CASE STUDY - Supermarkets 2008
by Rosa Williams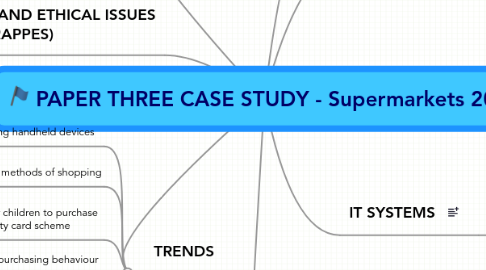 1. AREAS OF IMPACT
1.1. Business and Employment
1.2. Politics and Government
2. SOCIAL AND ETHICAL ISSUES (I PIC GRAPPES)
2.1. Privacy
2.1.1. RFID tracking of Staff
2.1.2. Of customer information
2.1.2.1. Credit Card
2.1.2.2. Shopping habits
2.1.2.2.1. Target Advertising
2.2. People and Machines
2.2.1. machines and jobs normally controlled and operated by humans will be replaced by technology
2.2.2. People lose their jobs
2.3. Security
2.4. Equality of Access
2.5. Control
2.6. Policies and Standards
2.6.1. Find some specifics- maybe from Loyalty Card Schemes and Site
3. IT SYSTEMS
3.1. Loyalty Programme
3.1.1. personal cards
3.1.2. La Vianda credit card
3.1.3. Data Mining
3.2. Universal Product Code (barcode) (Joeblogs)
3.3. EDI
3.4. RFID tags (Joeblogs)
3.4.1. Active
3.4.2. Passive
3.5. LAN
3.5.1. Wi-Fi
3.5.2. Web Server - How would this work...
3.6. POS/EPOS (rdubb)
3.6.1. POS: a managed care policy that gives members the option to choose between in-network and out-of-network care.
3.6.2. EPOS: Electronic point-of-sale scanning of barcodes for inventory management.
3.7. Smart Shelves (Moosykinns)
3.8. Smart Carts (Moosykinns)
3.9. DTP Software (Moosykinns)
3.9.1. What other Productivity Software Could be of help?
3.10. Self-scanning handheld devices
3.10.1. Stock Control
3.10.2. PDA
3.10.3. SEC Computers
3.11. Electronic Article Surveillance
3.12. Dynamic Pricing Strategies
3.13. Control Systems
3.13.1. Feedback Loops
4. TRENDS
4.1. Express service using self-scanning handheld devices
4.2. alternative methods of shopping
4.2.1. For potential customers who are housebound or have restricted mobility
4.3. Parents allow their children to purchase goods using loyalty card scheme
4.3.1. No need to carry cash
4.4. Customer purchasing behaviour
4.4.1. Effectiveness of advertising
4.5. Improvement in advertising
4.6. Expand it's customer base outside of local region
4.6.1. Delivered in local region by La Vienda from overseas purchases
4.7. Possibility of opening a second store in another city
5. SOLUTIONS
5.1. Encryption
5.2. RFID Tags
5.3. 3rd Party Secure Payment System
5.3.1. e.g. Paypal
5.4. E-Commerce
6. CHALLENGES
6.1. Improve stock management
6.1.1. Just in Time Vs Standard Stock Control
6.2. Accurate method of recording workers' hours
6.3. Growth cannot take place with the current IT systems in place
6.4. No room to expand on the current site
6.5. Opening a second store in another city
6.6. Disabled Access
6.7. Health and Safety
6.7.1. RSI
7. Particular Supermarket Research
7.1. TESCO
7.2. Sainsbury