Lotus Parenting Project
by
Anushka Drescher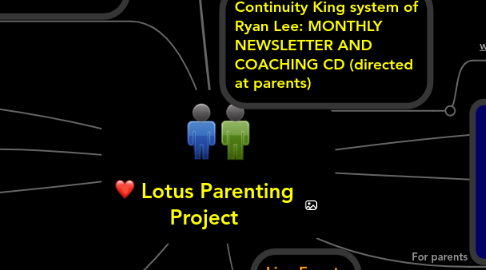 0.0
stars - reviews range from
0
to
5
Lotus Parenting Project
Invite 12 speakers for 8 spots (8 week teleseminar series)
Build squeeze page mock-up at www.parentingsupersite.com
FREE TELESEMINAR: List building and free Help for Parents; answer THEIR questions!
My Blogs/Websites: need nice graphics and a way to alert people when there is a new entry
www.lotusparenting.com
www.Parenting1018.com
Social Media: Link to blog, squeezepage and email list
Twitter
Facebook
Linkedin
12 steps
2. Interviewing
3. Start at the End, goal setting and creating a vision
4. Choosing a Title
5. The Discipline of Writing
6. Outlining
7. Storytelling
8. The Book Design
9. Self Publishing
10. Making Your Book Your Business
11. Marketing
12. Building a Brand that Commands
PARENT HELPERS
(1) MONTHLY TEACHING DVD BY KID IDOL (purchased by parents (upsell to Newsletter/CD; directed at kids; whole family watches)
(2) VIDEO GAME
(for credibility/expert status/recognition)
BOOK 1: Special Parenting Secrets of the Super Successful
Rites of Passage Program for boys and girls
Free Teleseminar CD
Create a video game for teen
Continuity King system of Ryan Lee: MONTHLY NEWSLETTER AND COACHING CD (directed at parents)
www.ryanlee.com
Book 2: "Best parenting practices from around the world"
Live Events
For parents
For teens