Chapter 7: Legal, Ethical & Tax Issues in Electronic Commerce
by
mike shaw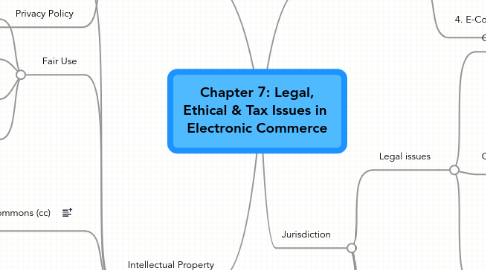 0.0
stars -
0
reviews range from
0
to
5
Chapter 7: Legal, Ethical & Tax Issues in Electronic Commerce
Why is this Important?
1. E-Commerce = cross-border international business
2. E-Commerce = fast & efficient communications
3. E-Commerce = customer contact is interactive
4. E-Commerce = promotes C2C interactions
can raise conflict between buyers and sellers (consumers)
Jurisdiction
Legal issues
Geographical-Legal Relationships, Power, Effects, Legitimacy, Notice
Contractual Jurisdiction, Subject-Matter Jurisdiction, Personal Jurisdiction, Conflict Laws
Contractual Enforcement, What is a Contract?, Written Contracts, Warranties and Disclaimers, Authority to Bind and Form Contracts
International Commerce
Culture and Customs
Treaties, Judicial Comity
Income and Sales Tax Implications
State Use Tax
Internet Tax Moratorium
Internet Resources
Web Disclosures
Terms of Service
Acceptance Use Policies
Conditions of Use
User Agreements
Privacy Policy
Personal Information, what data is collected?, how securely is it protected?, how swill my data be used/shared?, can i restrict the use of my data?, how do i update my data?, what if i am a child?, can i contact you?
Internet Resource, Direct Marketing Associtation's Create a Privacy Policy
Intellectual Property
Copyright
all rights reserved
Fair Use
Purpose of Use
Nature of Work
Amount Used
Market Impact
Creative Commons (cc)
your ability as the author of a creative work to specify who has the right to do something with that work. copyright = all rights reserved  cc = some rights reserved
Attribution
Noncommercial
Non Derivative Work
Share alike
Patents (Inventions and Processes)
Trademarks and Service Marks
Domain Names and Cybersquaters
Anti-Cybersquating Consumer Protection Act
CANN UDRP Domain Name Dispute Proceedings
Cefamation and Deceptive Practices
Digital Watermarking & Copy Control
Internet Resources
Copyright Central Basics
Copyright information portal (cases)
Stanford: Copyright and Fairuse