Use of Web 2.0 in businesses
by Marle Schoenfeldt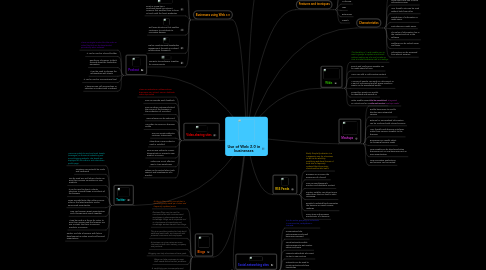 1. Features and tecniques
1.1. Search
1.2. Links
1.3. Authoring
1.4. Tags
1.5. Extensions
1.6. Signals
2. What is Web 2.0?
2.1. It is the term used with the web based applications that makes the sharing of information easier and more desirable to use on the World Wide Web and allows interaction with other users and editing of website content
3. Businesses using Web 2.0
3.1. Coca Cola keeps its brand in front of young eyes
3.2. Best Buy is an electronics retailer that has built an internal social network
3.3. Ernst & Young has a Facebook-based recruitment program that enables them to keep in touch with the finest graduates
3.4. Dell uses IdeaStorm that enables customers to contribute to innovative designs
3.5. GE has revolutionized knowledge management through an evolved collaboration framework
3.6. IBM gets its employees together for various events
4. Social-networking sites
4.1. It is the online grouping of individuals in communities, workplaces or interests.
4.2. Communities help entrepreneurs and small businesses succeed
4.3. Social-Networks enable entrepreneurs to get quotes, advice and more
4.4. connects individuals who want to start a new venture
4.5. Networks can be used to create contacts and share knowledge
4.6. Enables businesses to communicate and collaborate with others
4.7. Professionals can market their business
4.8. Helps the decision makers of the business make decisions
4.9. Businesses can find potential clients and business partners
5. Video-sharing sites
5.1. These are websites or software where businesses can upload, view or distribute video clips online
5.2. One can provide quick feedback
5.3. One can show customers behind the scenes of the business or the production of a product
5.4. New releases can be enhanced
5.5. Use video to raise your business profile
5.6. One can create authentic customer testimonials
5.7. Show how a new product is used or installed
5.8. One can use videos to review, demonstrate or present a new product or service
5.9. Videos are a cost effective way to train employees
5.10. videos can be posted about sale support and maintenance of a product
6. Wikis
6.1. The flexibility of 'n wiki enables one to work in groups to update or edit work without making use of e-mail or take up time to make conference calls or meetings
6.2. Events and conference agendas can be made ahead of time
6.3. Users can add or edit existing content
6.4. A group of people can work on a document or a part of a document and all group members inputs can be assimilated quickly
6.5. Project key points can quickly be identified and agreed on
6.6. Wikis enable projects to be completed in a structured or an informal manner
7. Blogs
7.1. A blog is like a online journal that is chronologically made up of short and frequently updated posts.
7.2. Business Blogs can be used for communication with customers and employees to share expertise and knowledge. Blogs are a corporate tool in a business and consultants and knowledge workers benefit from blogs
7.3. This is an excellent method to help build additional web traffic, and connect with potential customers and employees
7.4. A business can give customers more information about the industry, company and products
7.5. Blogging can help a business achieve goals
7.6. Blogs can help customers to meet their needs and solve their problems
7.7. A useful blog can increase sales and growth of the business in the long term
7.8. Businesses are given a face, voice and more personal feel
7.9. One can add value to the business by promoting products and give discounts to customers reading the blog
8. Mashups
8.1. Businesses who use integrated data services find mashups useful.
8.2. Enable businesses to quickly develop new integrated services
8.3. External or personalized information can be combined with internal services
8.4. User friendly Web browser interfaces make these services tangible to the business
8.5. Businesses can rapidly adapt to changing business needs
8.6. New insights can be developed when businesses act on new businesses act on new oppertunities
8.7. New innovative applications and services can be created
9. RSS Feeds
9.1. Really Simple Syndication is a inexpensive way for a business to talk to the world by publishing web feed formats of work that is frequently updated like blog entries, news headlines and traffic
9.2. Business can increase the awareness of a brand
9.3. One can simultaneously produce and distribute content
9.4. Greater visibility can attract more subscribers that can lead to sales increasing
9.5. Regularly updated feeds promotes the business on search engine rankings
9.6. Saves time and increases productivity of a business
10. Characteristics
10.1. One is encouraged to use networks or the web
10.2. Social tools help one to share information easier
10.3. User friendly sites can be used without help from other
10.4. Distribution of information is made easier
10.5. Data sharing is made easier
10.6. The value of information lies in the content and not in the software
10.7. Problems can be solved easier and faster
10.8. Information can be accessed from almost anyware
11. Twitter
11.1. Users are enable to send and read tweets (messages) on the social networking and micro-blogging website. The tweets are displayed on the author's and subscribers profile page
11.2. Meetings can instantly be made and confirmed
11.3. Can be used as a poll where clients can give their opinion on matters or new products
11.4. It can be used to direct a clients attention to good things or products of the business
11.5. News spreads faster than other sources. Sales or the latest products can be announced using twitter
11.6. One can be given great opportunities and it brings great minds together
11.7. It can be used as a forum for critics to give their opinion and the business can use or study the them to improve products or services
11.8. Twitter can help a business with future development in online social and financial expectations
12. Podcast
12.1. These are digital media files like audio or video files that can be downloaded periodically when realesed
12.2. It can be used as a brand builder
12.3. Reinforces a business to think forward about the leadership perception
12.4. It can be used to deepen the relationships with clients
12.5. It can be used as a promotional tool
12.6. A business can sell sponsorships or advertise a product with a podcast