Web 2.0 technologies uses to a business
by
Pierre Joubert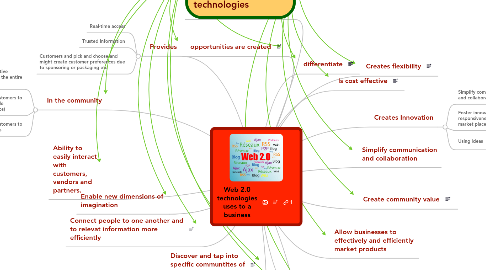 0.0
stars - reviews range from
0
to
5
A business can achieve the following (in the above branches) by using web 2.0 Technologies. Some examples of Web 2.0 technologies would be Myspace,     FaceBook, Youtube Web 2.0 is commonly associated with web applications that facilitate interactive information sharing, interoperability, user-centered design, and collaboration on the World Wide Web Examples of Web 2.0 include web-based communities, hosted services, web applications, social-networking sites, video-sharing sites, wikis, blogs, mashups, and folksonomies.
Creates flexibility
Web 2.0 creates an atmosphere in which the business is not limited but flexiable, allowing the business to look at new and different things happening in the community and within the business and therefore allowing the business to move any way they feel needed. Maybe having new products or entering into an entire new market.
Create community value
Create community value by tapping the collective knowledge of extended teams.  
Creates Innovation
Simplify communication and collaboration.
Foster innovation and responsiveness to customers and market place trends
Using ideas
Ideas and collaboration are the fuel for innovation.
Simplify communication and collaboration
Is cost effective
It is cost effective as it allows the business to set up methods to communicate with the community, employees, suppliers and maybe experts.  Web 2.0 technologies allows companies to broaden their their marketing message to appeal to the widest possible audience. 
Discover and tap into specific communtites of interest
Actively build relationships to share and aggregate the knowledge of many people in specific business areas.
opportunities are created
Create opportuinities to turn traditional sales and marketing stratergies on their heads.
Improve Competitiveness
Improve competitiveness while raising employee productivity by having the ability to collaborate with a wider range of people and having a larger brain trust.
differentiate
companies that have intense competition can use web 2.0 technologies to differentiate themselves and stabilize or increase their revenue.
Allow businesses to effectively and efficiently market products
Enable new dimensions of imagination
Harness the collective intelegence of their people
Through
Connect people to one another and to relevat information more efficiently
People can use situational applications that give them quick access to services in the context of their role and that can be mixed and remixed as needed.
Ability to easily interact with customers, vendors and partners.
In the community
Tap the collective knowledge of the entire value chain
Enable the workers and customers to connect in ways not possible before(building relationships)
Branch to customers to pick products
Provides
Real-time access
Trusted Information
Customers and pick and choose and might create customer preferences due to sponsoring or packaging etc
A few of the many web 2.0 technologies are: flickr Youtube linkedin furl jumpcut Eblogger Ning Facebook And many many more these are but a few of them.