Jorje Alejandro Wrist Watch Phone
by Jorje Alejandro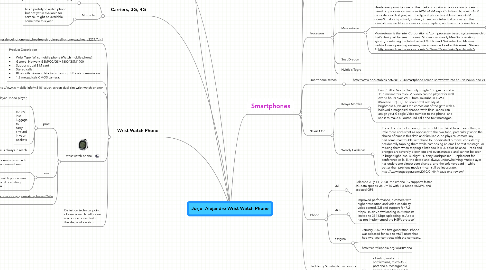 1. Locked wristwatch phone have to be with one network.
2. unlocked wristwatch phone will be able to have many networks and carries
3. Wrist Watch Phone
3.1. http://www.hotsaleoutlet.com/Wholesale-cell-phone-watches-free-shipping-cell-phone-watches_c2229/All-1
3.2. Product Description • Wrist Type: Wrist mobile phone (Watch mobile phone) • General Network GSM900/GSM1800/GSM1900 • Supports dual SIM card • Stereo calls • Bluetooth wireless data transmission/USB data transmission • 1.3 megapixels CMOS camera.
3.3. http://www.c-mobile.info/m810i-touch-screen-dual-sim-wrist-watch-phone/
3.4. wrist watch phone
3.4.1. pros:
3.4.1.1. You get it all, a cell phone, mp3 player, video player, digital and video camera.
3.4.1.2. there's less luggage to carry arround in your pockets
3.4.1.3. A watch phone is always in reach
3.4.2. cons:
3.4.2.1. A watch phone's size is much bigger than a normal wrist watch
3.4.2.2. Every watch phone uses its special operating system
3.4.3. Nehttp://www.thewatchphones.com/articles/pros-and-cons-of-buying-a-watch-phone-324/w node
3.5. Definition technical point of view a watch cellphone is a phone presented in the shape of a watch.
4. Carriers, 3G, 4G
4.1. AT&T
4.1.1. http://cache.gawkerassets.com/assets/images/4/2010/03/500x_attphone2.jpg
4.2. Motorola
4.2.1. has a prototype watch phone but not yet in available for service. Might be available some time this year!
5. Smartphones
5.1. http://www.ehow.com/about_6197600_smartphone-information.html
5.2. OS
5.2.1. Linux
5.2.1.1. Linux OS supports more processors than any other operating system on the market
5.2.1.1.1. http://communication.howstuffworks.com/smartphone2.htm
5.2.2. Windows Mobile
5.2.3. Web OS
5.3. http://www.pcmag.com/article2/0,2817,2360152,00.asp
5.4. Processors
5.4.1. ARMS
5.4.2. Moorestown
5.4.2.1. Nearly every smartphone on the market contains an application processor based on processor cores from ARM. (ARM says 2.5 billion chips with ARM cores shipped last year, and the typical phone has at least two.) ARM doesn't make chips itself; instead, it creates intellectual property in the form of designed-for-processor cores, graphics, and memory connections.
5.4.2.1.1. http://www.pcmag.com/article2/0,2817,2360152,00.asp
5.4.2.2. Moorestown is the Intel Corporation's Atom processor based system-on-a-chip that's designed for smartphones. Moorestown-ready MeeGo operating system, combining the Intel-backed Moblin and Nokia-backed Maemo mobile Linux operating systems, was announced earlier this week. Steven A. http://www.linuxfordevices.com/c/a/News/OpenPeak-OpenTablet-7/
5.4.3. SnapDragon
5.4.4. Nvidia's Tegra
5.5. Smartphone screen
5.5.1. http://www.pocketables.net/2010/04/smartphone-screen-showdown-htc-hd2-vs-nexus-one-vs-iphone-3gs-vs-nokia-n900.html
5.6. Nexus One
5.6.1. Kenya Morales
5.6.1.1. Pros: 1.)The Nexus One only weighs 130 grams and is 11.5 millimeters thick. 2.)Video can be played for well over 3 hours over Wi-Fi from YouTube in H.264 (Baseline 1.2). 3.) The screen will self adjust brightness 4.)Nexus One comes out of the gate with a beloved 5 megapixel snapper with flash. 5.You can assign your Google Voice number to the phone, and use it to make all outbound calls and text messages.
5.6.2. Wendy Cardenas
5.6.2.1. Cons: 1. choice of coloring -- we would have liked to see something a little more consistent as opposed to the two-tone, particularly when the choice of hues is this drab and familiar. 2. no physical camera key -- had some real trouble with those four dedicated buttons: consistently accidentally tapping them while composing an email or text message, or missing them when tapping a little too low. 3. color balance -- reds and oranges are severely blown-out and oversaturated and cannot be seen in bright light, esp. sunlight. 4. tinny loudspeaker -- unpleasant for conference calls. 5. the dated and always-underwhelming music player has undergone almost zero change, and the soft keyboard -- while better than previous models -- can still be inaccurate. http://www.engadget.com/2010/01/04/nexus-one-review/
5.7. iPhone
5.7.1. 3G
5.7.1.1. Released July 11, 2008, the iPhone 3G supports faster 3G data speeds via UMTS with 3.6 Mbps HSDPA, and assisted GPS.
5.7.2. 3GS
5.7.2.1. improved performance, a camera with higher resolution and video capability, voice control,[22] and support for 7.2 Mbps HSDPA downloading (but remains limited to 384 Kbps uploading as Apple has not implemented the HSPA protocol)
5.7.3. Original
5.7.3.1. January 2007 the first generation iPhone was released for sale to At&T users that had two-year contracts with the company.
5.7.3.2. http://en.wikipedia.org/wiki/IPhone
5.8. Blackberry Smartwatch accessory
5.8.1. vibrating motor for notifications, microUSB port and a rechargeable battery rated for about 4 days of continuous use.