THE STORY
by Cristina Diana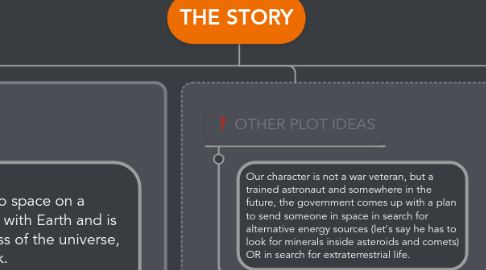 1. OTHER PLOT IDEAS
1.1. Our character is not a war veteran, but a trained astronaut and somewhere in the future, the government comes up with a plan to send someone in space in search for alternative energy sources (let's say he has to look for minerals inside asteroids and comets) OR in search for extraterrestrial life.
1.1.1. GAME
1.1.2. No mental sickness or bipolar identity, the player just has to focus on completing the mission and return safely to earth.
1.2. The character wakes up in a space ship and has no memory of how he got there or what his mission is.
1.2.1. GAME
1.2.2. The player has to put the pieces together and help the astronaut figure everything out so that he can safely return to Earth.
2. MAIN IDEA
2.1. In the future, post world war. Our character, a war veteran, is sent into space on a mission, however he fails, loses contact with Earth and is stuck in a space ship in the vast darkness of the universe, hoping and trying to make his way back. Due to the extreme conditions, loneliness, hopelessness and the side affects of the war he struggles to keep himself sane, so he creates an imaginary person to cope with loneliness and to avoid dementia and suicide. Another possible character would be the robot that allows him to interact with the ship. The game will have the feel of a psychological thriller and it will give the game more depth and mystery.
2.1.1. GAME
2.1.2. The player has to keep the character sane until he returns to Earth despite his mental issues, therefore they are under time pressure AND/OR every bad decision that they make in the game while interacting with the "imaginary friend" and the robot will increase the levels of insanity.
2.1.3. GOAL
2.1.3.1. Make it back to earth safely before the astronaut loses his mind.
3. RESEARCH/INSPIRATION FROM FILM
3.1. MOON
3.2. LOVE
3.3. OTHER
3.3.1. EUROPA REPORT
3.3.2. SPACE ODYSSEY
3.3.3. GRAVITY
3.3.4. EVENT HORIZON
3.3.5. APOLLO 13
3.3.6. SUNSHINE