Hamlet Motifs
by
L Porter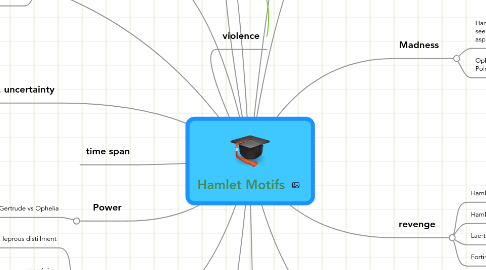 0.0
stars - reviews range from
0
to
5
Hamlet Motifs
the bloody ending scene
Wheels
Birth and Death
Yorik
Hamlet's Birth = Denmark takes over Norway
Hamlet's father's death is the birth of another king, Claudius
Hamlet's death is to the birth of another king in Denmark, Fortinbras
Dirt
water?
king's flesh in begger's belly
Ophelia's dead body being burried underground
Poison
leprous distillment
union/wine
envenomed sword
"O, this is the poison of deep grief" (4.5.72)
The poison used to kill King Hamlet
Silence/Voice
ear
"The rest... is silence" -Hamlet's last words
fate
First choices then comes fate
Horatio: Heaven will direct it (1.4.66)
"O cursed spite, that ever I was born to set it right!" (1.5.196-197)
"You will lose this wager, my lord." (5.2.156)
revenge
Hamlet to Rosencratz and Guildenstern
Hamlet to Claudius
Laertes to Hamlet
Fortinbras to King Hamlet
Incest
Claudius/Gertrude
Hamlet/Gertrude
Women seem to be blamed the most. Hamlet criticizes women
Madness
Hamlet feigns madness, but he seems to be really mad in aspects
Ophelia becomes mad after Polonius's death
suicide
Ophelia Drowining
Hamlet's thoughts about suicide - "To be or not to be"
Christian's perspective regarding this issue
conscience
"Wherein I'll catch the conscience of the king." (2.2.594)
truth vs. uncertainty
Hamlet was not sure if the ghost was trully his father's spirit or a devil playing tricks on him
There are more things in heaven and earth, Horatio, that are dreamt of in your philosopy
the ugly truth
Uncertainty of the unnatural murder -"Revenge his foul and most unnatural murder." (1.5.24)- is proven as truth.
violence
time span
Power
Gertrude vs Ophelia