50+ FREE Learning Websites for Elementary School Students
by
Steven Mitchell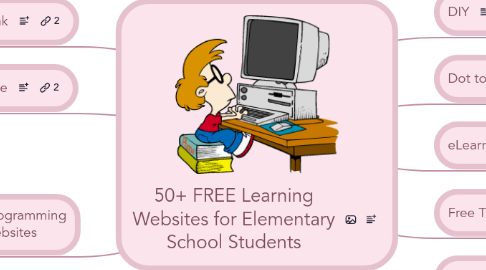 0.0
stars -
0
reviews range from
0
to
5
50+ FREE Learning Websites for Elementary School Students
This is my collection of resources that I've compiled over the last 3 years (and counting). There are plenty of resources to make learning fun.
Math, Language Arts, science, social studies, art/music, computer programing, and more.
Free printable worksheets for kindergarten.
Various learning resources.
Reading.
Reading and games.
Talking picture dictionary
Various resources. Used by over 18K schools.
Learn to read.
10 free online books
90+ years of helping kids read.
Family playground
Max's math adventures
Videos of popular books being read.
Letters, games, games.
Become a zoo whiz.
- Wonder, leanring, discovery, creativity and imagination.- Supported by National Center for Family Literacy (NCFL).
Legend
Free (no icon)
Fee-based
100 hand drawn letters by Christopher Rouleau every week for 52 weeks.
Lots of free worksheets.
Videos
Education YouTube
Khan Academy
TeacherTube
TED-Ed
WatchKnowLearn
Student interactives.
Math.
Practice multiplication problems.
Lots of free resources.
Various worksheets.
Math, English, Spanish.
Addition and multiplication game
Math, English, Spanish, games.
Videos, worksheets, games.
Math and English.
Typing lessons.
Math games.
Advanced math.
Math games.
Various learning activities.
Sheets, coloring pages, dot-to-dot, games.
Spelling and vocabulary.
BBC
Bitesize
SkillWise
Various resources.
Learning games.
Games, activities, worksheets.
Thousands of math worksheets.
Dot puzzles.
Connect the dots puzzles.
Math, vocabulary, and spelling games.
Learning resources.
Learning games.
Math activities.
Math resources.
Math games.
Printable worksheets for preschool and kindergarten.
A place for kids to share what they've created.
Nature puzzles, facts, games.
NSF supported project that began in 1999 to develop a library of uniquely interactive, web-based virtual manipulatives or concept tutorials, mostly in the form of Java applets, for mathematics instruction (K-12 emphasis).
Educational games
Math activities and games.
Math activities.
Math activities.
ABCMouse
Reading, math, science.
Programming websites
Alice
Arduino
HacketyHack
Processing
Scratch
Learn phonics.
Wide variety of learning activities.
Math activities.
Math exercises.
In various languages.
Free coloring sheets.
Math, reading, games.
Curates the Web's best resources, compiling them into collections and quizzes.