Next Generation Mindmapping with MindMeister
by Neil Hinrichsen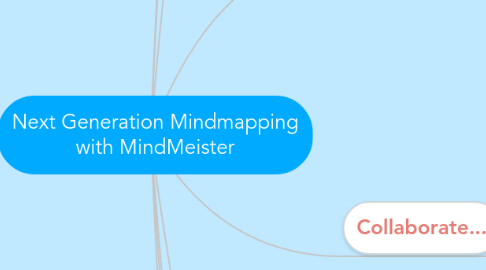 1. First generation
1.1. - desktop systems - hard to collaborate - difficult to access on mobile devices
2. Next generation
2.1. - cloud-based systems (but with offline access too) - easily accessible from all devices - easy to collaborate in realtime on same map - maps can easily be embedded and shared on web pages - also let you easily create and share presentations from maps
2.2. see all the features of MindMeister below...
2.2.1. hgcghcfghfghgf
3. Cloud-based & Cross platform...
3.1. you can import all your existing maps in different formats
3.2. topics in maps can have icons, images, video, notes, links, tasks and attachments in them (custom themes, and Evernote integration, too)
3.2.1. tasks integrate into MeisterTask
3.3. accessible from any web browser
3.3.1. you can have multiple maps open simultaneously in different tabs in your browser
3.3.2. a power tip... (click on the icon with three lines to see the note)
3.4. accessible from Android and iOS apps
3.5. offline access as well
3.5.1. note only Chrome browser (and tablet apps) supported for offline access...
3.5.2. you need to manually take a map offline, and then manually take it online again afterwards
3.6. great dashboard for all your maps, which can be organised into hierarchical folders
3.6.1. maps can also link to other maps
3.7. easily search through ALL your maps, or just ONE map, for any text
3.8. maps can be exported into a wide range of formats including PDF and Microsoft Word
4. Publish maps...
4.1. maps can easily be embedded into web pages
4.1.1. each map also has its own page, and an url that you can share
4.2. maps in web pages are "live", fully navigable
4.2.1. can be expanded into full-screen as well
4.3. published maps can be for all, or only for those with permission
4.3.1. published maps can be editable by others or read only; likewise for downloads
4.3.2. other MindMeister users can "Clone" maps into their own space if they have permission
5. Collaborate...
5.1. many people can work on a map at same time
5.2. you can see the changes in realtime
5.3. MindMeister stores all versions of your map, and you can see a timeline of all past versions (with colour coding showing who did edits) and you can access or roll-back to any version
5.4. business version includes comments and voting on topics within the map
6. Presentations...
6.1. you can easily create presentations from maps
6.2. works rather like Prezi - you 'snap' sections of the map to make up slides
6.3. slides can easily be reordered and changed
6.4. presentations can be embedded in web pages just like maps can
7. and the Cost?
7.1. free Basic plan allows up to 3 maps
7.1.1. Personal plan is $6 per month
7.1.2. Pro version is $10 pm
7.1.3. Business version is $15 pm
7.2. want to know more?
7.2.1. MindMeister site
7.2.2. Lots more MindMeister features reviewed here
8. Try it out
8.1. you can get started with 3 free maps here
9. ...the Author
9.1. My name is Neil Hinrichsen of KoiStrategy. I mentor startups and new ventures across South Africa.
9.2. (I've been an entrepreneur myself - two startups, both acquired)
9.3. my "KoiTips" newsletters with lessons for entrepreneurs are read by several hundred people - you may want to read some or subscribe here...
9.4. ...or join the "Koi Entrepreneurs Group" on Facebook...
9.5. ...or attend my "Idea Workshop" for entrepreneurs
9.6. ...or read my blog "Diary of a Change Agent"
9.7. ...or follow me on Twitter @NeilHinrichsen