CONDITIONALS
by Patrícia Cardozo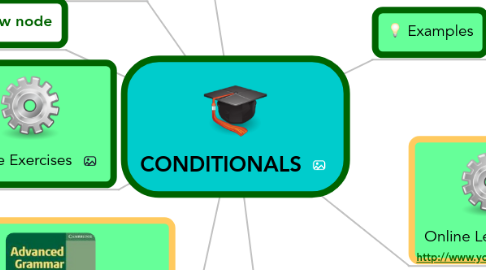 1. Grammar Books
2. Basic Rules
2.1. zero
2.1.1. If + present - present
2.2. first
2.2.1. If + present - will
2.3. second
2.3.1. If + past - would
2.4. third
2.4.1. If + past perfect - would have
3. Online Exercises
3.1. http://www.eslpartyland.com/dating/guy.htm
3.2. http://web2.uvcs.uvic.ca/elc/StudyZone/410/grammar/allcnd1.htm
3.3. http://www.englishclub.com/grammar/verbs-conditional_quiz.htm
3.4. http://www.ego4u.com/en/business-english/grammar/conditional-sentences
4. Examples
4.1. zero
4.1.1. You don't have to come unless you want to.
4.2. first
4.2.1. If it rains, I won't walk the dog.
4.3. second
4.3.1. If I won the lottery, I would buy a mansion.
4.4. third
4.4.1. If I had seen Pete, I would have told him of the party.
5. They refer to:
5.1. A condition whose result is always true.
5.2. A real possibility for a condition or situation to happen in the future.
5.3. An unreal possibility for a condition to happen in the future.
5.4. A condition in the past that did not happen.
6. Online Lessons
6.1. http://www.englisch-hilfen.de/en/grammar/if.htm
6.2. http://www.youtube.com/watch?v=g9WO5iZsDn0&feature=player_embedded
6.3. http://www.youtube.com/watch?v=ow8FIHbwekU
6.4. http://www.youtube.com/watch?v=CdHbkjCviC0&NR=1
6.5. http://www.youtube.com/watch?v=TcWwk-2TLo4&feature=channel
6.6. http://www.youtube.com/watch?v=t7O-2nQKc-g&feature=channel
6.7. http://www.youtube.com/watch?v=KxjoTZOdyfU&feature=channel
6.8. http://www.youtube.com/watch?v=dhC77_aBT5U&NR=1
7. Fun stuff
7.1. http://www.youtube.com/watch?v=USR3bX_PtU4&feature=related
7.2. http://www.youtube.com/watch?v=kUCm_-zvj00&feature=related
7.3. http://comics.com/big_nate/2010-04-04/
7.4. Songs
7.4.1. If I were a Boy - Beyoncé
7.4.2. Painter - Norah Jones
7.5. http://images.ucomics.com/comics/ga/2010/ga100206.gif
7.6. http://comics.com/peanuts/2010-02-25/
7.7. http://www.gocomics.com/calvinandhobbes/2010/04/07/
8. New node
8.1. New node