DO YOU AGREE THAT CITY LIFE IS BECOMING INCREASINGLY UNATTRACTIVE?
by
ck pro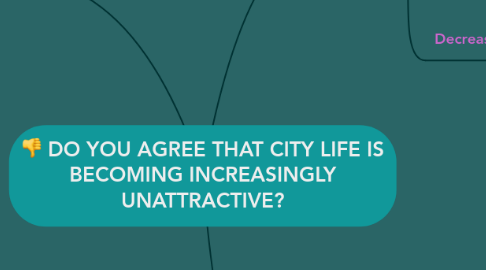 0.0
stars - reviews range from
0
to
5
DO YOU AGREE THAT CITY LIFE IS BECOMING INCREASINGLY UNATTRACTIVE?
YES
addressing "increasingly"
How was city life different from the past?, 1. Slower pace of life, peaceful, 2. less competitive, less stress, less pressure to do well, less expectations of oneself, easier satisfaction, 3. less developed technology, less dependency on machines, low stress to keep up, less pollution, healthier lifestyle, less noise pollution, air pollution, environmental degradation
Decreasing standards of living (SOL)
Physical Aspect of the population, 1.Stressful and tiring lives of the working population and students, long working hour, increased expectation of work quality, 2. Overly crowded spaces, migration of people into city, Influx of people has limited free spaces within the city, creating a very restricted/ closed-up atmosphere, human and traffic congestion, Increased pollution in the form of drastic rise in the number of motor vehicles travelling in the city which contributed greenhouse gases, Unpleasant and uncomfortable environment
Mental Aspect of the population, 1. Less family time, due to heavy workload no quality family time, Family ties or bonds cannot be further strengthen or fostered, family values not inculcated, increased communication gap between parents and children, Fewer opportunites to interact with the children and hence grow increasingly distant, 2. Increased competitiveness, Jobs, Create extreme competiveness between colleagues and damage relationships, Results in people resorting to underhanded means just to acheive their goals, possibly lead to increased crime rates, Education, Preventing students from being more interested in topics they want because they are pressured to excel for respectable results, e.g. people take science stream even though they are better in their arts subjects, prevents people from exploring their talents, which could result in a decreasing talent pool
NO
High Standards of Living (SOL)
Physical Aspects of the population, 1. Technological advancements, higher quality of life with increased technology, materialistic indulgements, For enjoyment and leisure, 2. Exercise and Recreational facilities, People would be healthier, 3. Education amd Health, Better than rural areas
Mental Aspects of the population, Increased competition, higher income, Greater disposable income which can be used to buy more things (gain materialistically) and can be used to increase one's skills, increased incentive to improve oneself and upgrade, To become a more skilled person in terms of knowledge and ability
Conclusion
YES ! City life is indeed becoming more unattractive
The overall physical and mental aspects that the city life creates has a more negative impact to the society.