LSLC Training Needs Assessment
by
Stephanie Zimmerman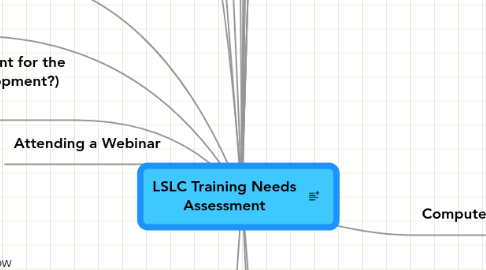 5.0
stars -
1
reviews range from
0
to
5
LSLC Training Needs Assessment
A place to gather all of my thought processes for the assessment I will be undertaking for my Library System. Stephanie Zimmerman Training Coordinator Library System of Lancaster County http://lslctraining.blogspot.com A Needs Assessment/Skills Gap Analysis is identifying the gaps between CURRENT and DESIRED SKILLS (so what are those right now?) and the possible solutions to those gaps (what action is needed to close the gaps?  Is it training or not? If it is training, what kind of training?).
Do they have yearly evaluation procedures?
Computer Skills
Millennium
LILLY
Windows
Microsoft Office
Databases
CAS
Social Media
Peripherals
Internet
Photo Editing
Video Editing
Web Design
Calcium Calendar
Email
Project Management
Online Surveys
Google
PDFs
Wi-Fi
EnvisionWare
Phone Skills/Etiquette
Attending a Webinar
What are the Libraries Doing?
Do they have job descriptions
What internal training are they doing?
Do they have defined Core Competencies?
Do they do Performance Appraisals?
What is their mission statement?
What are their organizational goals?
Interest in a Systemwide Staff Day?
Interest in a Training/Cont. Ed Committee?
Look for an "inside" person at each library
Someone who advocates training and is techie.
Job Positions
Director
Asst. Director
Circulation Manager
Circulation Asst.
Youth Staff
Board
Volunteer
Webmaster
Volunteer Coordinator
Accountant
Public Services Librarian
Adult Services Librarian
Collection Development Coordinator
Passport Service
Technology Coordinator
Acquisitions
Community Relations
Reference Librarian
Facilities Coordinator
Reserves
Interlibrary Loan
Business Reference Librarian
Maintenance
Branch Coordinator
Data Controller
Special Services Coordinator
Program Manager
Library Management
Note: WebJunction has courses in this area.
Personal & Interpersonal
Public Services
Technical Services
Technology: Core Technology
Technology: Systems & IT
Chapter 1: Why Needs Assessment?
Chapter 2: The Training Request
Chapter 3: Identifying Questions and Data Sources
Chapter 4: Evaluating Potential Data Collection Methods
Chapter 5: Data Collection Implementation
Chapter 6: Data Analysis Findings
Chapter 7: Data Analysis Recommendations
Chapter 8: Communicating With Your Client
Chapter 9: The Ideal Organization Scan
Chapter 10: A Final Note
Teaching Technology book
A How To Do It Manual for Librarians by D. Scott Brandt
Part 1: Developing Technology Training Courses Using ADDIE
My plan?
First a direct-informal (asking staff casual questions) survey?
Or first a direct-informal (asking directors about learning issues) survey to identify what should go on the staff survey.
Be sure to ask specific and measurable questions, not just do you need training on...
Determine where staff are already on the topics I ask about - novice vs. pro etc.
Soft Skills
Customer Service
Diversity Training
Strategic Planning/Goal Setting
Leadership/Management Training
Budgeting
Time Management
Fundraising
Managing Volunteers
Hiring
They need to learn how to explain the problems they are experiencing when writing to the helpdesk.
Library Science Skills
Reference
Research Skills
Information Literacy
Collection Development
Understanding Copyright
How to Weed
Running Book Clubs & Reading Groups
New node
Grant Writing
Community Partnering
Maintaining & Repairing Books
Protecting Privacy
Creating Book Displays
Meeting State & Local Standards
Training Delivery Options
HOW
WHERE
WHEN
LENGTH
Need a Mission Statement for the LSLC Learning (& Development?) Program