LSLC Training Needs Assessment
by
Stephanie Zimmerman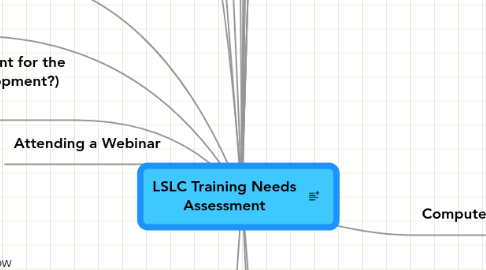 5.0
stars -
1
reviews range from
0
to
5
LSLC Training Needs Assessment
A place to gather all of my thought processes for the assessment I will be undertaking for my Library System. Stephanie Zimmerman Training Coordinator Library System of Lancaster County http://lslctraining.blogspot.com A Needs Assessment/Skills Gap Analysis is identifying the gaps between CURRENT and DESIRED SKILLS (so what are those right now?) and the possible solutions to those gaps (what action is needed to close the gaps?  Is it training or not? If it is training, what kind of training?).
Do they have yearly evaluation procedures?
Computer Skills
Millennium
Basic Circ
OPAC, Overdrive
Holds
Advanced Circ
Create Lists
Web Management Reports
Linking
LILLY
How to log in
How to find information
How to post/edit information
Windows
XP - Basic, mouse and keyboard skills, working with windows
XP - Advanced, File management, Customizing Windows, Desktop Settings
Vista
7
Microsoft Office
Word 2003, Level 1, Level 2, Level 3
Excel 2003, Level 1, Level 2, Level 3
Publisher
Powerpoint
Access
Outlook
Databases
CAS
iPage
Social Media
Twitter
Blogging, Blogger, Wordpress
Podcasts, iTunes, HowTo
Photo Sharing, Flickr, Picasa, Photobucket
Video Sharing, YouTube, Vimeo, Video Editing
Social Bookmarking, delicious, diigo
Social Networks, Facebook, LinkedIn, MySpace
RSS, Google Reader, Bloglines
Peripherals
Scanners
Smartphones
mp3 Players (iPod)
eReaders, B&N Nook, Sony
Tablets, iPad
Internet
Links/URLs
Search Engines, Keyword, Phrase
Browsers
Evaluating Web Pages
Google, Advanced Searching
Surfing
Email, Set Up online account, Logging In, Reading, Composing, Attachments, Spam
Job and Career Resources, Writing Resumes
Geneaology
Buying/Selling, eBay, Craigslist
TV, Hulu
Groceries, email circulars, online grocery lists
Photo Editing
Photoshop
Gimp
Video Editing
Web Design
DSF
Calcium Calendar
Email
Outlook Desktop
OWA
Etiquette
Barracuda Spam Firewall
Project Management
Basecamp
Online Surveys
Surveymonkey
Google
Docs, Forms
Calendar
PDFs
Viewing
Creating
Wi-Fi
How to Access
Troubleshoot
EnvisionWare
Phone Skills/Etiquette
Attending a Webinar
What are the Libraries Doing?
Do they have job descriptions
What internal training are they doing?
Do they have defined Core Competencies?
Do they do Performance Appraisals?
What is their mission statement?
What are their organizational goals?
Interest in a Systemwide Staff Day?
Interest in a Training/Cont. Ed Committee?
Look for an "inside" person at each library
Someone who advocates training and is techie.
Job Positions
Director
Asst. Director
AKA, Program Associate, Administrative Assistant, Deputy Director, Operations Manager
Circulation Manager
AKA, Team Leader, Circulation Supervisor
Circulation Asst.
AKA, Library Assistant, Customer Service Specialist, Library Clerk, Library Aide, Page
Youth Staff
AKA, Children's Librarian, Youth Services Coordinator, Youth Services Librarian, Children's Services, Family Place Teen Services Coordinator, Children's Program Director
Board
Volunteer
Webmaster
AKA, Website Manager
Volunteer Coordinator
Accountant
Public Services Librarian
Adult Services Librarian
Collection Development Coordinator
Passport Service
Technology Coordinator
AKA, Manager of Operations & Technology, Tech Desk, Technical Services Coordinator
Acquisitions
AKA, Library Acquisitions
Community Relations
Reference Librarian
Facilities Coordinator
Reserves
Interlibrary Loan
Business Reference Librarian
Maintenance
Branch Coordinator
Data Controller
Special Services Coordinator
Program Manager
Library Management
Note: WebJunction has courses in this area.
Budget & Funding
Community Relations
Facilities
Laws, Policies & Procedures
Marketing
Organizational Leadership
Personnel Management
Project Management
Staff Training & Development
Strategic Planning
Trustees & Friends
Personal & Interpersonal
Communication
Customer Service
Ethics & Values
Interpersonal
Leadership & Project Management
Learning & Personal Growth
Public Services
Access Services
Adult & Older Adult Services, Adult Services & Outreach, Adult (General) Programming, Older Adult Services & Programming, Readers' Advisory, Reference
Children's Services
Collection Development
Patron Training
Young Adult Services
Technical Services
Acquisitions & Processing
Cataloging
Collection Management
E-Resource Management
Preservation
Technology: Core Technology
Core E-mail Applications
Core Hardware
Core Internet
Core Operating Systems
Core Software Applications
Core Web Tools
Technology: Systems & IT
Digital Resource Technology
Enterprise Computing
Hardware
Networking & Security
Operating & Automation Systems
Public Access Computing
Server Administration
Software Applications
Technology Planning
Technology Policies
Technology Training
Web Design & Development
Chapter 1: Why Needs Assessment?
Needs Assessment Stages, Stage 1: What are the business needs?, Stage 2: What are the performance needs?, Stage 4: What are the learner needs?
Steps in Needs Assessment Process, Step 1: Conduct external and organiztion scan, Step 2: Collect data to identify business needs, Step 3: Identify potential training intervention, Step 4: Collect data to identify performance, learning, and learner needs, Step 5: Analyze data, Step 6: Deliver data analysis feedback, Transition Step: Begin training design
Chapter 2: The Training Request
Preparing for the initial library director conversation, What is each library's (and the system's) current perception of what I as the Training Coordinator do?, Stage 3: What are the learning needs?, What is each library's perception of the role of training in supporting business strategies and employee performance?, What questions should I ask each library in order to build credibility in order to conduct a training needs assessment?
Chapter 3: Identifying Questions and Data Sources
If possible, collect data on current performance in areas, Measure the Gap between the two
Need to collect data on desired performance in areas, There is no gap for learners with no background or experience in the skills
Four Thought Processes, 1. identifying the questions that must be answered by the data collection, 2. identifying the sources that can supply the required data, 3. identifying potential data collection methods, 4. choosing the data collection methods
The main objective of data collection in training needs assessment is action, not understanding!!!
Chapter 4: Evaluating Potential Data Collection Methods
Quantitative, Hard Data: Objective & Measurable, Frequency, Percentage, Proportion, Time, Extant Data, Existing records, reports & data, Inside Organiztion, Outside Organization, Examples, job descriptions, competency models, benchmarking reports, annual reports, financial statements, strategic plans, mission statements, staffing statistics, climate surveys, 360-degree feedback, performance appraisals, grievances, turnover rates, absenteeism, suggestion box feedback, accident statistics, short-term and long-term leave records, customer compaints, quality statistics, production and labor costs, production rates, waste, rework rates, down time, late deliveries, repairs, training evaluation data, competitive intelligences, Methods to collect, Internal Departments, HR, Quality improvement, legal, finance, Scan External Environment, business trends, company progress, regulatory issues, current events, Surveys, Assessments & Tests, Job Task Analyses, SMEs, Acknowledged Expert, star performer employee, reference source (book/doc), you
Qualitative, Soft Data: Intangible, Anecdotal, Personal, Subjective, Opinions, Attitudes, Assumptions, Feelings, Values, Desires, Interviews, Importance vs. self-assessment, May be recorded, Critical Incident Interviews, Must be recorded, Focus Groups, group interview, 5-12 participants, Observation, Accompanied by interviews
Chapter 5: Data Collection Implementation
Choose Quantitative & Qualitative Methods
Considerations, Time Needed, Other Resources Needed, Other Costs, Essentialness, Availability of Data Sources, Logistics, Needs Assessor's Skill Level
Implementing Your Data Collection, Double-check, Make a plan, Be flexible, Include client regularly & frequently, Keep own interpretations & experiences out of the data collection, Be objective, Use extant data correctly, Use others to achieve reliability, Plan how to share the data when data collection is complete, Skim or sample the data as it is being gathered, Stop when you get repetitive data, New node
The Ultimate Goal: Generating the Training Design, Stage 1: Business Needs Data, Stage 2: Performance Needs, Stage 3: Learning Needs, Stage 4: Learner Needs
Chapter 6: Data Analysis Findings
Findings vs. Recommendations, Identifying Findings, Findings are pure; unaffected by the context of the organization or the needs assessor's biases, Developing recommendations based on the findings, Recommendations are contextual within the organization and situation, as well as with other data
Needs Assessment data analysis adds value in 2 ways, 1) Develops a current picture of what's going on, 2) Translates the data into action items or recommendations
What Does the Data Say?, Quantitative vs. Qualitative, Quantitative, Depicted numerically, frequencies, percentages, other measures of proportion, how many said X or Y, Analyzing this data involves determining what the numbers really mean (NOT what should be done about it; that's the recommendation part!), Qualitative, Usually narrative in form, anecdotes, stories, survey essay questions, Analyzing this data involves identifying themes, patterns, trends, key ideas, issues, and determining their strength by examining how often those patterns or trends occur, Opportunities to combine Qualitative and Quantitative data, Determines stronger and more robust patterns and themes, Data Analysis results in findings at all four needs assessment stages, Stage 1: Business Needs and the Training Intervention, Stage 2: Specific Desired Work Performance, Stage 3: Training Design Information, Stage 4: Training Delivery Information
Descriptive Statistical Analysis, Descriptive Statistics - Methods of interpreting data that enable meaning to be derived, Interval scale, Nominal scale, Reliability, Validity, Frequency, Mean=Average, Median, Mode, Percentile, Significance, Inferential Statistics - Used to present various relationships among values in the data set (ex. standard deviation)
Using Statistics to Derive Meaning, If statistical analysis provides indicators that aren't very strong, seek additional corroborating data from your other sources, If it doesn't feel right, it probably isn't
Non-Training Needs, Tools, Regulations, Organizational Structure, Customers, External Pressures, Workforce, Resources, Incentives, On the job reinforcement, Organizational culture, Motivation
Chapter 7: Data Analysis Recommendations
Recommendations Are Not the Same as Findings, 2 purposes of a needs assessment, 1) Determine how a training intervention must affect job performance to meet business needs (training needs), 2) Identify what else must change in the organization to support the desired performance (non-training needs)
Making Training Recommendations, Learning objectives for the to-be-developed training course, Parts of training course content that should be emphasized or deemphasized (helps to avoid a generalized "grab-bag" content set, Activities to focus on particular skills: knowledge vs skill practice levels, Types of learning activities and training materials, Delivery Methods, Type of learning environment, prework, postwork, prerequisites, training schedule, Audience
Making Non-Training Recommendations, Depends on 4 factors, 1) How a finding relates in context with other training and non-training findings, 2) The training professional's role and level in the organization, 3) Perception of the training function within the organization (Is training function seen as an internal consulting function that focuses on job performance or as a training provider on request?), 4) Cost of implementing a recommendation compared to how much benefit will be derived from it (ROI)
So, What About ROI?, (Net benefits / Costs) * 100 = ROI (%), 4 Steps, Step 1: Calculate the projected value of the business goal, Step 2: Estimate a reasonable proportion of effect that training can be expected to have on the desired business outcome., Step 3: Calculate the projected costs of the potential training effort (including needs assessment, design, development, delivery and evaluation), Step 4: Calculate the projected ROI (Expected Benefits - Projected Costs = Net Expected Benefits) and the ROI calc., Step 5: Present the projected ROI as a part of my recommendations
Tips for Projecting ROI, Don't do so if not conducting a thorough needs assessment
Chapter 8: Communicating With Your Client
Planning the Feedback Meeting and Presentation, Define Your Presentation Goals, Know Your Audience, Separate Findings from Recommendations, Tailor Your Presentation Media and Style, Handout Materials, Structure Your Time: spend more time on recommendations vs findings, Emphasize Information That the Client Can Affect, Plan Ahead, New node
Making the Presentation, Sometimes the presentation is more convincing than the data., Factors that are most influential in a presentation, a level of detail that matches audience's expectations, Your ability to answer questions that come up during the presentation, Organization of information that builds evidence so answers logically present themselves to the audience, Your ability to link disparate points of info on the spot, Your level of self-confidence, Present findings with as little bias as possible - wait for the recommendations
Steps in the Presentation, 1) Begin with a summary of what was done in the needs assessment study., 2) Present the findings first - simple, concise and direct - sometimes passive voice is best (no you)., 3) Make an obvious transition to recommendations, 4) Be flexible as the meeting goes on, 5) Ask for what you want
Next Steps, Identify the non-training issues and make recommendations
Chapter 9: The Ideal Organization Scan
Sources of External and Organization Scan Data, Libraries' Missions, Libraries' Strategies (Strategic Plans), Libraries' Organizational goals, Libraries' Plans and Objectives, Libraries' Stated Wants and Needs, Libraries' Annual Reports, Change implementation or reorganization plans
Chapter 10: A Final Note
Other outputs that assessments produce beyond main goal of how training can help org reach its business and performance goals and the valuable output of non-training factors, Relationship between stated business and performance needs and the proposed training need, Goals at each state that will ultimately be evaluated in the training evaluation process, Training design indicators (learning objectives, activities etc), Metrics that will be used to measure learning success and business success during training eval process
Common Errors in Needs Assessment, Insufficient data collection or analysis, Treating presenting problems only, Applying no tools or the wrong tools, try to triangulate on training and non-training issues by using variety of data collection methods - at least 2, BUT don't use too many tools = analysis paralysis!, Trying a quick fix, Applying the wrong fix, Giving feedback in wrong "language", Assuming one problem/one solution, Failing to identify non-training issues, Failing to educate clients regarding non-training issues
What About Performance Consulting?
Teaching Technology book
A How To Do It Manual for Librarians by D. Scott Brandt
Part 1: Developing Technology Training Courses Using ADDIE
Step 1: Analysis, Importance of Analyzing Learning Aspects, Learning styles, Preferences to teaching styles, aptitudes in a learning situation, what motivates them, Definition of Learner Analysis, Steps for learner analysis, 1) Determine basic area of need (what does it seem like they want?), 2) Identify likely outcome (How would you describe success?), a demonstrable or measurable result, behavior, or change, 3) Determine questions to ask and method for asking them, by determining specific outcomes you can shape the questions you ask so that you elicit specific responses, 4) Interview as many people as is reasonable, Determine my sample - everyone or few of each position?, 5) Analyze results, looking for trends, discrepancies, gaps, Do I have all of the results in one place/format?, What patterns or repeat issues/problems can I see?, Are some things mentioned more/less than others?, How do I translate patterns or trends into needs?, With whom can I verify/double-check needs?, 6) Use resulting analysis to help design training, Reasons for Analyzing Learners, To find out about their current level of knowledge about the subject being taught, What do they know now?, What do they want to learn?, What might they learn to do differently to help them acquire knowledge or skills?, Find out about the learner's styles and preferences for learning, Investigate learner attitudes toward the subject (or learning in general), What's it like from their perspective - how willing are they to undertake the learning?, What, if any, misconceptions about the topic do they have?, Where or when will they be applying learning?, Categories of Analysis, Direct - interaction with the potential learners to hear their needs, Indirect - interacting with others or some means of observing learners without interacting with them, Formal - gathering data and recording specific and precise responses from learners, Informal - collecting or validating general impressions of the learner, Direct-formal, requires most work and time in defining, preparing, gathering and reviewing info, provides opportunity to ask lot of specific questions, anonymity (web form) can encourage participants reluctant to speak up, May need approval by "the management" - hence info may need to be shared for reasons other than designing learning - be prepared to distribute findings, Indirect-formal, almost as time consuming as the direct one, May get more objective info, won't work in situations where there are no expectations on the learner - internally motivated and not held accountable to anyone, Direct-informal, quick and general and useful info, Less questions and less intensive - trade off means able to ask more people a smaller number of questions, more conversational means more personal interaction and follow up, Indirect-informal, most vague way to gather info - but what is most often used, Involves subjective interpretation on part of analyzer - so don't trust it entirely, Determining Learners' Needs, Visit staff on the job to see the potential learners in their working environment, learner needs = gap in knowledge or skills, Identify where the learners are currently, Identify where they would like or need to be, Determine what it would take to get their knowledge and skills updated, Identifying Learner's Levels of Experience, Segregate learners? - beginner, intermediate, advanced, Ask those with more experience to sit with someone who has less experience and help out - but ask for volunteers, Include a roving assistant to help learners with lower skills, Include supplementary materials for both introductory and advanced learners, Learner Attitudes, ARCS model by John Keller, Attention - ice breakers, gimmicks to grab their attention in the first place, Relevance - understand what learners feel is relevant and include examples, exercises and strategies to meet their expectations, Confidence - If learners are confident they can achieve the objectives set out by the learning, they are going to be motivated to do it, Satisfaction - what will you do to ensure the ultimate satisfaction of the user with the learning? - make things relevant and build their confidence in the knowledge and skills, Types of Learning, Acquisition of motor (behavioral skills) -behaviors that can be physically taught, learned or demonstrated - moving a mouse, right clicking etc., Acquisition of verbal information -facts and figures that are memorized like definitions, terms concepts etc., Development of intellectual (procedural/conceptual/rule-based) skills - anything other than physical, verbal, or attitude skills. Anything to do with basic or low-level thinking = processes with a varying number of steps from simple to complex - much of traditional training falls here, Development of cognitive (analytical/problem solving) strategies - a higher-order level of thinking = figuring something out, Change of attitude (affective) - things that affect the mood and motivation of learning, Styles of Learning, Auditory, Visual and Tactile, Deductive and Inductive, Abstract, Concrete, Reflective and Active, How learners perceive and how they process learning
My plan?
First a direct-informal (asking staff casual questions) survey?
Or first a direct-informal (asking directors about learning issues) survey to identify what should go on the staff survey.
Be sure to ask specific and measurable questions, not just do you need training on...
Determine where staff are already on the topics I ask about - novice vs. pro etc.
Soft Skills
Customer Service
Diversity Training
Strategic Planning/Goal Setting
Leadership/Management Training
Budgeting
Time Management
Fundraising
Managing Volunteers
Hiring
They need to learn how to explain the problems they are experiencing when writing to the helpdesk.
Library Science Skills
Reference
Research Skills
Information Literacy
Collection Development
Understanding Copyright
How to Weed
Running Book Clubs & Reading Groups
New node
Grant Writing
Community Partnering
Maintaining & Repairing Books
Protecting Privacy
Creating Book Displays
Meeting State & Local Standards
Training Delivery Options
HOW
Hand-on Classes/Workshops
Presentation at a Conference
Self-Paced Tutorials at any computer/Online
How-to-books, Manuals, Quick References/Job Aids & other print materials
Online classes which include discussion/Webinars
Online Video
Online Audio
WHERE
At the System
In my own Library
WHEN
Daytime Hours
Evening Hours
Weekends
LENGTH
3 hours (1/2 day)
6 hours (full day)
1 hour
More than one day (in a row)
A series of one day workshops (held over a span of months)
Need a Mission Statement for the LSLC Learning (& Development?) Program