Blogging the Blogosphere Divide
by
baratunde thurston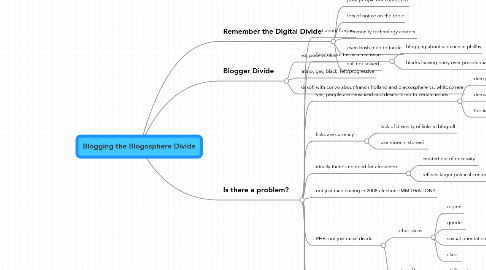 2.0
stars -
1
reviews range from
0
to
5
Blogging the Blogosphere Divide
Remember the Digital Divide
poor people not connected
lots of notice on the topic
community technology centers
even bush tried to tackle
still not solved
Blogger Divide
not poor vs. rich
latino, gay, black, left/progressive
kickoff with convo about francis holland and blackosphere vs. whitosphere
Is there a problem?
not about francis
field negro: this is a real issue
yes, people are sensitized and desensitized to certain issues
links are currency.
ideally there's no need for afrosphere
not just race baiting in 2008 election: IMMIGRATION!!
PHB: not just racial divide
need dialog even among disagreement
burden is on both to look for opportunities to cooperate
divide between A list and others.