6 Tips on How to Choose a Web Development Company
by Mary Hogan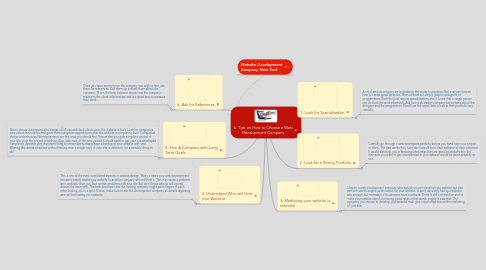 1. 2. Look for a Strong Portfolio
1.1. Carefully go through a web developers portfolio before you hand over your project to them. The past works they have done would be a clear indicator of their potential. It would alos help you in knowing what areas they are good at and whether the elements you want to get incorporated in your website would be done properly or not.
2. 1. Look for Specialisation
2.1. A lot of web developers are available in the market nowadays. Not everyone knows how to create good websites. Most of them are simply graphic designers or programmers. Both the field require specializations and it is rare that a single person can do both the work effectively. Ask your web design company beforehand about the designer and the programmer. If both are the same, take a look at their portfolio very carefully.
3. 3. Marketing your website is essential
3.1. Choose a web development company who would not only develop your website but also perform search engine optimization for your website. In early days only having a website was enough but nowadays all businesses have a website. There is stiff competition and to make your website stand out having good ranks in the search engine is essential. The company you choose to develop your website must give equal emphasis on the marketing of your site.
4. 4. Understand Who will Host your Website
4.1. This is one of the most overlooked aspects in website design. Many a times your web development company simply resells your website to another company who will host it. This may cause a problem later onwards when you face certain problems with your site but don't know who to call up and discuss the issue with. The web developer and the hosting company might point fingers at each other leaving you in a spot. Hence, make sure to ask the development company all details regarding who will be hosting your website.
5. 5. Hire A Company with Long Term Goals.
5.1. Never choose a company who breaks off all ties with their clients once the website is built. Look for companies who values their clients and gives them complete support even after the website is completely built. Companies that provide services like maintenance are the ones you should hire. Ensure that you gain complete control of your site once the project is finished. Also, take note of the time period it would need to get your site developed completely. Another very important thing to remember is always have a backup of your website with you! Wasting thousands of dollars without having even a single copy of your site is definitely not a sensible thing to do!
6. 6. Ask for References
6.1. Once you have zeroed in on the company you wish to hire, ask them for references. Call them up and ask them about the company. This is the best indicator about how the company maintains the client relationships and is a good way to measure their work.
7. Website Development Company New York