Australia's Diverse Community Broadcasting Sector--(largely voluntary community)
by phyllis gowa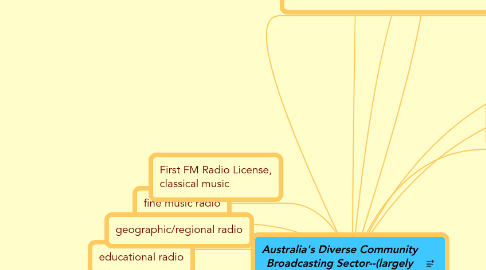 1. Political parties' funding becomes more frequent. This furthers ethical dilemma, in that programming promotes their political agenda.
2. Government funding recently decreasing, resulting in "CREEPING COMMERCIALISM" creating ethical conflict.
3. 2001--Digital TV via "datacasting" increases broadcasting options, but meets with resistance & lack of funding
4. community access trials begin 1990's to 2004
5. trials successful, resulting in permanency. Licenses issued.
6. more difficult to survive lately due to competion for licenses
7. recent offshoot of BRACS, due to government recognition that Aboriginal programming should be accessible in urban and rural venues, as well as remote locations
8. SBC (SPECIAL BROADCASTING SERVICE) developed in 1977 to cater to cultural diversity
9. BRACS (BROADCASTING FOR REMOTE ABORIGINAL SCHEME) GOVERNMENT SPONSORED, SATELLITE LAUNCHED, 1980'S, Radio stations-may earn profit, TV stations-non-profit
10. youth and student programming
11. gay radio
12. religious programming
13. fine music radio
14. educational radio
15. geographic/regional radio
16. First FM Radio License, classical music
17. MULTI-CULTURAL PROGRAMMING IN 75 LANGUAGES