PHY112 Summer '10 Kyle Barry
by
Kyle Barry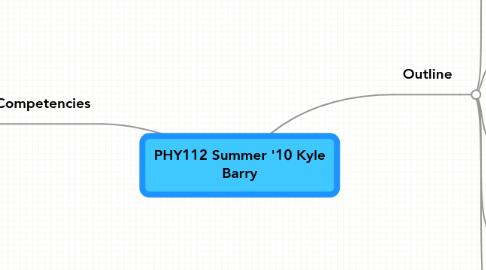 0.0
stars - reviews range from
0
to
5
PHY112 Summer '10 Kyle Barry
Competencies
Effectively communicate qualitative and quantitative information orally and in writing.
Dipity Account
Mind Meister Account
E Portfolio
E-Mail Communication
Explain the application of fundamental physical principles to various physical phenomena.
Tape Experiment on Day 4
Day 7 Circuit
Lectures (Pencasts?)
ERM Map
Apply appropriate problem-solving techniques to practical and meaningful problems using graphical, mathematical, and written modeling tools.
Logger Pro Tutorial
Work effectively in collaborative groups.
The Coil Gun Project
Telescope Project
Project 3
Outline
Electrical and Magnetic Properties of Matter
Tape Experiment on day 4
Ions, Atoms, Isotopes and Equations on Day 4
Principals of Electric Camera Flash
Resistance and Day 10 Lectures
Day 11 Conductors, Insulators, Etc.
Day 7 Circuit
Principals of Light and Reflection
Fields and Forces
Tape Experiment on day 4
Day 6(?) Lectures
DC and AC Currents
Circuits and Lenz's law
Day 7 Circuit
Coil Gun
Electromagnitism
Coil Gun Project
Day 10 Lectures
Light/Erm Radiation
Elements of Modern Physics
Nuclear Fission, Project three., Splitting of Atoms
Nuclear Fusion, Fusing of atoms, hence fusion.