Editorial Workbench 2
by
Will Bakali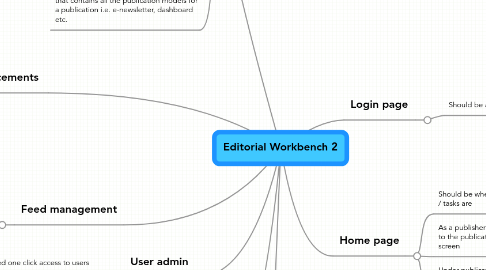 0.0
stars - reviews range from
0
to
5
Editorial Workbench 2
Login page
Should be a landing page
Home page
Should be where dashboards / tasks are
As a publisher should take you to the publication admin screen
Under publications admin should be 'create new' functionality
General enhancements
Pagination needs addressing across application.
Ability to filter columns and search (for publications etc.)
Ability to multiple-select and select all
Need to be consistent about naming of feeds vs. content vs sources across application
Feed management
Need to show RSS and Factiva on same page
User admin
Need one click access to users
Workbench
Streamline creation of new publication
Need to add context menu highlight to sources on mouse-over
Need more precision with source icons. I.e. don't use RSS icons for ATOM and Factiva sources
UI needs to be more intuitive at instructing user that articles can be dragged/dropped onto sections
Adjust content section
Publish section
New publish page takes you to a new UI that contains all the publication models for a publication i.e. e-newsletter, dashboard etc.
Publication settings
Add some help text to explain to user what to do.
User roles
User (no admin rights)
Site admin (ALL admin rights)
Publication Owner
Publication Editor
Publication Distributor