MATH PROBLEMS??? NO PROBLEM!!! GOAL: to show different strategies in teaching problem solving techniques
by
Miss Kris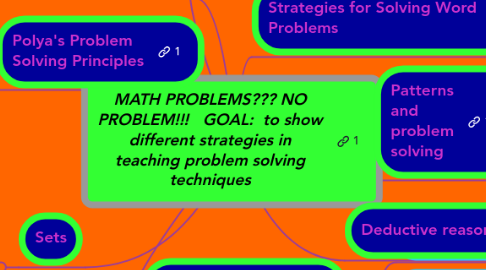 0.0
stars - reviews range from
0
to
5
Functions, Coordinates and Graphs
Understanding the problem
Polya suggest that a problem solver needs to become better acquainted with a problem and work toward a clearer understanding of it before progressing toward a solution.
Devising a plan
Experience and practice are the best teachers for devising plans.
Carrying out the plan
Your plan will give a general outline of direction.  Write down your thinking so your steps can be retraced.
Looking back
When a result has been reached, verify or check it by referring to the original problem.
Strategies for Solving Word Problems
Here are 5 different problem solving techniques...
Models are important aids for visualizing a problem and suggesting a solution.
By working backwards, one can retrace the steps of the problem to find a solution.
This is one of the most helpful strategies for understanding a problem and obtaining ideas for a solution.
A problem can sometimes be solved by listing some or all of the possibilities.  A table is a great way of organizing such a list.
Even if guessing doesn't produce the right answer, it may increase the understanding of the problem and obtain an idea for solving it.
A PROBLEM IS...
A problem exist when there is a situation you want to resolve but no solution is readily apparent.
PROBLEM SOLVING IS...
Problem solving is the process by which the unfamiliar situation is resolved.
Sets
When using Venn diagrams, it becomes easier to establish sets, union of sets, intersection of sets, etc.
Manipulatives are a great way to allow students to picture and reason in their mind, why things look and work the way they do.
Deductive reasoning
Deductive reasoning in math is very important when forming conclusions and seeking a solution.