Front Matter - Alberta Social Studies POS
by Dallas Johnson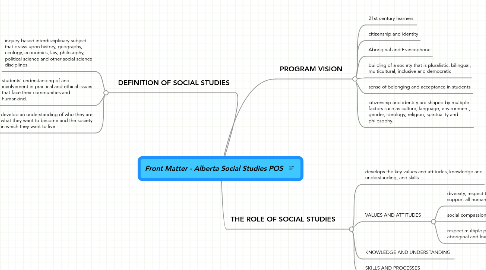 1. PROGRAM VISION
1.1. 21st century learners
1.2. citizenship and identity
1.3. Aboriginal and Francophone
1.4. building of a society that is pluralistic, bilingual, multicultural, inclusive and democratic
1.5. sense of belonging and acceptance in students
1.6. citizenship and identity are shaped by multiple factors such as culture, language, environment, gender, ideology, religion, spirituality and philosophy.
2. DEFINITION OF SOCIAL STUDIES
2.1. inquiry-based interdisciplinary subject that draws upon history, geography, ecology, economics, law, philosophy, political science and other social science disciplines.
2.2. students' understanding of and involvement in practical and ethical issues that face their communities and humankind.
2.3. develop an understanding of who they are, what they want to become and the society in which they want to live
3. THE ROLE OF SOCIAL STUDIES
3.1. develops the key values and attitudes, knowledge and understanding, and skills
3.2. VALUES AND ATTITUDES
3.2.1. diversity, respect the dignity and support all human beings
3.2.2. social compassion, fairness and justice
3.2.3. respect multiple perspectives, including aboriginal and francophone.
3.3. KNOWLEDGE AND UNDERSTANDING
3.4. SKILLS AND PROCESSES