Social Studies-Program of Studies-Front Matter
by Sylvie A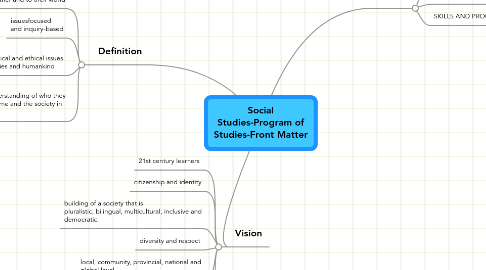 1. Role
1.1. VALUES AND ATTITUDES
1.2. KNOWLEDGE AND UNDERSTANDING
1.3. SKILLS AND PROCESSES
2. Definition
2.1. study of people in relation to each other and to their world
2.2. issuesfocused and inquiry-based
2.3. understanding of and involvement in practical and ethical issues that face their communities and humankind
2.4. enabling students to develop an understanding of who they are, what they want to become and the society in which they want to live.
3. Vision
3.1. 21st century learners
3.2. citizenship and identity
3.3. building of a society that is pluralistic, bilingual, multicultural, inclusive and democratic.
3.4. diversity and respect
3.5. local, community, provincial, national and global level.
3.6. multiple factors such as culture, language, environment, gender, ideology, religion, spirituality and philosophy.