Australian Technologies Curriculum
by Courtney Griffin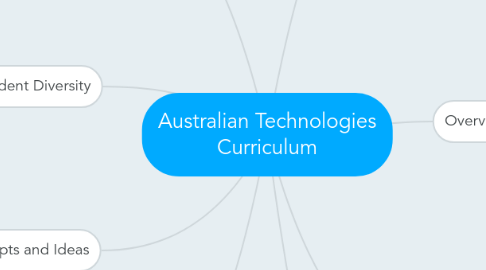 1. Learning Areas
1.1. Mathematics
1.1.1. Number and Algebra
1.1.2. Statistics and Probability
1.1.3. Measurement and Geometry
1.2. English
1.2.1. Literacy, Language and Literature
1.3. Science
1.3.1. Understanding
1.3.2. Science Inquiry Skills
1.4. Humanities and Social Sciences
1.4.1. History
1.4.2. Geography
1.5. The Arts
1.5.1. Dance
1.5.2. Drama
1.5.3. Visual Arts
1.5.4. Music
1.6. Health and Physical Education
2. Overview
2.1. Achievement Standards
2.1.1. These standards explain what students should be demonstrating throughout each level.
2.2. Content Descriptions
2.2.1. This described the skills and knowledge that the teacher is required to teach in the classroom.
2.3. Content Elaborations
2.3.1. Goes deeper in to the content descriptions and gives examples of how these can be taught.
3. General Capabilities
3.1. Literacy
3.2. Numeracy
3.3. Information and Communication
3.4. Technology (ICT) Capabilities
3.5. Critical and Creative Thinking
3.6. Personal and Social Capability
3.7. Ethical Understanding
3.8. Intercultural Understanding
4. Cross Curriculum Priorities
4.1. Sustainability
4.1.1. Developing the skills to evaluate the costs and benefits of different technologies.
4.2. Aboriginal and Torres Strait Islander History and Culture
4.2.1. Past, present and future technologies used.
4.2.2. Investigated interconnection and inter-relatedness.
4.2.3. Country, people and culture,
4.3. Asia and Australia's relationship with Asia
4.3.1. Exploring technological advancements by Asia.
4.3.2. The diversity of Asia
4.3.3. The engagement between Asia and Australia.
5. Student Diversity
5.1. Gifted and Talented
5.2. Students with disabilities
5.3. English as a second language
6. Concepts and Ideas
6.1. Design and Technologies
6.1.1. Technologies and Society
6.1.2. Technologies Contexts
6.1.3. Creating Design Solutions
6.2. Design Technologies
6.2.1. Digital Systems
6.2.2. Representation of Data
6.2.3. Creating Digital Solutions
7. Band Levels
7.1. Foundation to Year 2
7.2. Years 3 and 4
7.3. Years 5 and 6
7.4. Years 7 and 8
7.5. Years 9 and 10
8. Key Concepts
8.1. Abstraction
8.2. Data collection, representation and interpretation
8.3. Digital Systems
8.4. Interactions and Impacts
8.5. Specification, algorithms and implementation