Time Management For the Adult Learner
by alec swanson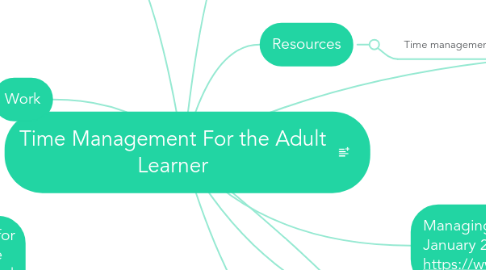 1. Time management strategies
1.1. What are the best time management strategies?
1.2. One strategy that works great would be having a to do list for your school work. Write down what needs to be done and when it needs to be done.
1.3. During early research I also found out that another great way to not procrastinate is to have notifications set on your phone to tell you when the assignments need to be done by.
2. Work
2.1. How can you manage time and work at the same time?
2.2. I have learned so far that between work and school it can be very stressful. One way I found to counteract that was to ask my boss if I could have an hour a day to keep up on homework while at work.
2.3. Another great way to deal with work and school is too take the major assignments you have and break them down into smaller blocks that are easier for you to complete on your time.
3. Work on your schoolwork every night even if it's only for ten minutes. You should do as much as you can in the time you have. This is another way to manage time and work.
4. Another way to manage time is to never waste a second. If you have time to do things, do them.
5. I have learned so much during this project on time management for the adult learner. From being in school, to work, to having a life and hanging out with friends and family. There are ways to manage it all and still be able to live comfortably. My research for the this project has broadened my horizons and even helped me manage my time a lot better than before I started the project.
6. Lifestyle
6.1. How can you make time for school and be able to hang out with friends and family at the same time?
6.2. I have found that if you set up when you will be doing your assignments you can fit in time to see your friends and family.
6.3. Always focus on the task at hand
7. Resources
7.1. Time management
8. Juggling Work And School: 5 Time Management Tips | CAREEREALISM. (2015). Retrieved January 28, 2016, from http://www.careerealism.com/time-management-tips-work-school/
9. Study Guides and Strategies. (n.d.). Retrieved January 28, 2016, from http://www.studygs.net/timman.htm
10. Managing Time for Success in College. (n.d.). Retrieved January 28, 2016, from https://www.uwgb.edu/tutoring/resources/managing.asp
10.1. 8 Ways to Take Control of Your Time - High School and College. (n.d.). Retrieved January 28, 2016, from https://bigfuture.collegeboard.org/get-started/inside-the-classroom/8-ways-to-take-control-of-your-time
11. Being in the military working 7 days a week and going TDY with school it can be very hard to manage everything I need to get done. With the research I have done on this project and what I have learned during this project I feel like I can manage everything that Is put in front of me.