Closing Panel #ILI2010: Library Futures. Views & Vision of the Future of Libraries & Information Specialists
by
Åke Nygren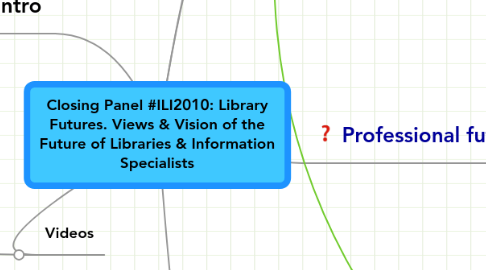 0.0
stars - reviews range from
0
to
5
Closing Panel #ILI2010: Library Futures. Views & Vision of the Future of Libraries & Information Specialists
Back to the text
Kindle and ebooks exploding
Pure text
Social around the text
Geo local, MyWorld, Foursquare, Facebook Places, Gowalla
Library Museums Archives, Platsr.se, Swedish National Heritage Board
Story telling, Places where stories are created, "James Joyce said...", The Library & it's relations
Professional future
combination of skills
evaluation, not only internet OR physical collections
quality control
connections
Branding
personal, strengths, weaknesses, What happens to the library when the branded librarian leaves?
instition
Balance
we know the tools now, attention can involve more, we can find a new balance
The matchmaker
ICT
Education
Archives
Museums
Citizens
Spiders!, proactively make people talk, libraries = civilization, Google - market thinking, libraries - citizen thinking
The market creator
ebooks
pluralism
new commercial attention
guarantee for a stable market, BUT! we don't want monopoly
new players, old publishing industry can't relate to change, we are in between, intermediators
Mobile librarian
Hybrid Librarians
from institution to person, definition of library = librarian, u can have a Librarian without a library but not a library without librarians
Tribes
Virtual
Physical
A new Librarian Mashup Professional, the whole thing, connections!, Libraries are growing organisms
Twitter
Videos
Intro
Ranganathan
Books are for use. Every reader his [or her] book. Every book its reader. Save the time of the reader. The library is a growing organism.
Internet
Innovation crisis?, Facebook dominance