Tetris
by
Anon Mous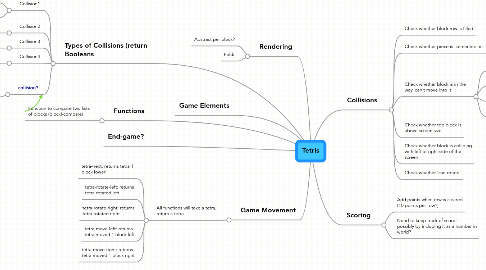 0.0
stars - reviews range from
0
to
5
Tetris
Collisions
Check whether block row is filled
Check whether piece is 'cemented' in
Check whether block is in the way, can't move into it
Check whether top block is above screen size
Check whether block is colliding with left or right side of the screen
Check whether 'can rotate'
Scoring
Add points when row is cleared (10 points per row?)
Need to keep track of score - possibly by including it as a number in world?
Game Movement
All functions will take a tetra, return a tetra
Rendering
Abstract per block?
Foldr
Types of Collisions (return Booleans
Collision1
Collision2
Collision3
Collision4
collision?
Functions
Function to compare two lists of blocks (blockl-compare)
End-game?
Game Elements