Carla Rieger
by
Goran Kimovski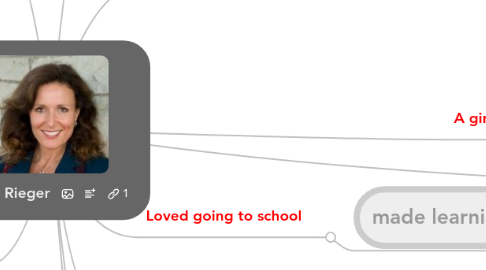 0.0
stars -
0
reviews range from
0
to
5
CARLA RIEGER is an expert on how to reinvent your organization and your life. She is the director of The Artistry of Change, a consulting firm based in Vancouver since 1991 and has written four books on change, creativity and conflict resolution, and is a regular columnist for several publications. In addition, she has over 15 years experience in the performing arts, as a playwright and novelist. She has spoken to over 1000 groups internationally of up to 4000 people. As a frequent speaker, trainer, author and coach, Carla helps people reinvent themselves and their organizations, so they can lead the change they want to see in the world. For a video interview and more on Carla Rieger, click here.  
building gardens or filming about the life of Galileo
she became a successful entrepreneur
The Art of Reinvention
Legend
Use the + and - icons to expand/collapse nodes
Hover over the circle with lines to read attached notes
Well done!  
Art of Reinvention
people like to throw that term around during an economic downturn
What needs to burn down...
reinvention is part of a creative life
A girl who was distracted
sent off to special learning class
Loved going to school
made learning a fun adventure
Imaginative..organized...
what are the traits to be a successful novelist?
it is not the task but the mind set
Let's bring sunshine to the forest floor!