Carla Rieger
by
Goran Kimovski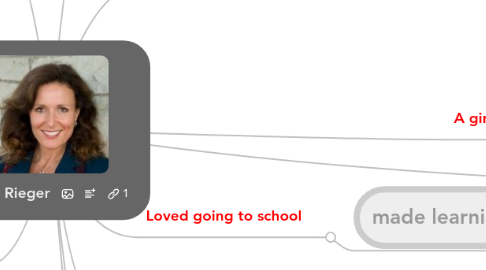 0.0
stars -
0
reviews range from
0
to
5
CARLA RIEGER is an expert on how to reinvent your organization and your life. She is the director of The Artistry of Change, a consulting firm based in Vancouver since 1991 and has written four books on change, creativity and conflict resolution, and is a regular columnist for several publications. In addition, she has over 15 years experience in the performing arts, as a playwright and novelist. She has spoken to over 1000 groups internationally of up to 4000 people. As a frequent speaker, trainer, author and coach, Carla helps people reinvent themselves and their organizations, so they can lead the change they want to see in the world. For a video interview and more on Carla Rieger, click here.  
building gardens or filming about the life of Galileo
she became a successful entrepreneur
Carla!!!
The Art of Reinvention
Legend
Use the + and - icons to expand/collapse nodes
Hover over the circle with lines to read attached notes
Well done!  
Art of Reinvention
people like to throw that term around during an economic downturn
You know longer you look good so reinvent your career, what is reinvention and why can adapt so much better than others, the idea of the forest fire, surpression of natural wildfires, nature is WISE, if the trees get to big they will not let sunshine get to the forest floor, and things can't grow, dense forest, forest fire
What needs to burn down...
reinvention is part of a creative life
so that you can make space, to prepare, or else we have adults who are lost and are not flexible, what is the difference between someone is happy and centred and the person who gets choked by the stapler mover -- Drugs?, The difference is being able to let go!
A girl who was distracted
sent off to special learning class
teased, mother wanted an alternative, and found one where coliaboration and experience was derigueur
Loved going to school
made learning a fun adventure
friends, made me responsible for my learning, I became a life long and self motivated learner, my Mom went to bat for me, I could have turned out like Linda, who stayed in the main stream, and died at a young age of a drug overdose, kids who create high scores in creativity are a fabulous asset, Carla went to the library for the blind to use the audio books - responsible for her own learning
Imaginative..organized...
what are the traits to be a successful novelist?
it is not the task but the mind set
how do you keep the creative mind set going?, Carla had to move to think and so do many other students..., we are all massively creative, but if you neglect your creative skills you become mouldy = teen health problems - and lead to drugs., take life challenges and turn them into a positive experience..., her Dad had changed his identity a few time during his life, became a book, reinvented her life, inspired others to write and change their relationships
Let's bring sunshine to the forest floor!