Alex Jurgensen
by
Goran Kimovski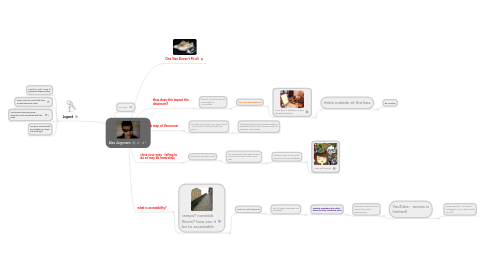 0.0
stars -
0
reviews range from
0
to
5
  One of TEDxUBC's high school student speakers, Alex Jurgensen, is a young entrepreneur who has many interests. In addition to his passion for music, running, reading, writing and arithmetic, Alex also enjoys speaking about and using technology, with a special focus on products and services designed to be used by everyone. As a student, he is a strong believer in the principles of universally designed learning.  
My Story
Notes about the talk
Legend
Use the + and - icons to expand/collapse nodes
Hover over the circle with lines to read attached notes
Well done!  
close your eyes - failing to do so may be hazardous
student at burnaby south
has lost much of his sight by age of six and is now a white cane user, changes need to be made based on his own disability, eyes still closed?
what is accessibility?
ramps? nonstick floors? how can it be to accessable
and it is not happening, not all online resources are accessible, content providers who don't know that the standards exist, what does this mean for people for visual impairment?, YouTube - access is limited!, Screen Reader -- to speech synthesizer --use Adobe Flash HTML5
How does this impact the classroom?
how as a teacher do you know what is accessible?
look into web standards, if you have a problem contact the web developer, think outside of the box, be creative
A map of Vancouver
but didn't you keep your eyes closed - how could you know where the spot is
a blantant dysfunction between what a disabled learner and a learner with full capacity experiences
One Size Doesn't Fit all