What kind of media institution might distribute your media product and why?
by Beth Wilson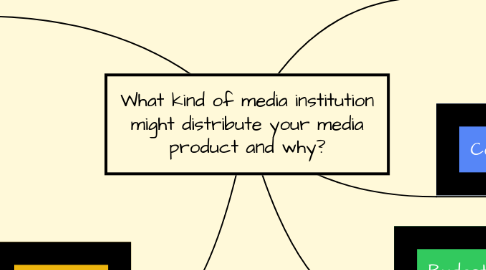 1. Expectations
2. Synergy
2.1. Physics
2.1.1. Research and prepare experiment
3. Lionsgate Films is part of Lions Gate Entertainment has many divisions that cover multiple aspects of media including film, television, gaming and music.
4. Lionsgate Premiere is a division of Lionsgate Films that was set up in April 2015. It releases around 15.films theatrically and through the video on demand market and streaming services. Lionsgate Premiere partnered with CBS films to produce and distribute "Get a Job" in March 2015. In March 2016 "Joshy" is planned to be released in collaboration with Hulu, an online streaming service. These partnerships provide future possibilities for collaborations on other projects. CBS films promote films on television which would broaden the distribution of my media product, as would Hulu as it is an online streaing service making it more accesbile for viewers who travel a lot. In addition, Lionsgate Premier is targeted at the younger demographic which would mean my product is distributed towards my target audience.
5. Lionsgate Television is another division of Lions Gate Entertainment. It works with other major TV production companies such as ABC, Netflix, Lifetime, Syfy and E!. They have produced and distributed TV shows such as: "Nashville", "Orange is the New Black", "Nurse Jackie" and "Paris Hilton' My New BFF." These programmes were well received, as were many of the other programmes produced under Lionsgate Television. The current partnerships held by Lionsgate means that there is an option for a Television series spin-off of my media product. This could be an extra source of revenue and has been demonstrated by the CBS series "Limitless" that started airing in 2015, which acts as a follow-up to the events of the film "Limitless" released in 2011.
6. Lionsgate Interactive is the gaming section of Lionsgate Entertainment. In April 2011 Lionsgate teamed up with Peter Levin, the former CEO of 'Nerdist Industries', to head up their interactive and gaming division. The aim for Lionsgate Interactive is to adapt existing Lionsgate Productions (from both TV and Film) into video games primarily for mobile and social platforms (such as Candy Crush Saga, which is expected to make $60 million in by 2017.) Levin said "We've got a phenomenal library of content, each property could be brought to life in the video game space", citing Lionsgate's most successful franchises "The Hunger Games" and "Divergent." This provides a chance for more synergy, as Levin has a reputation in the media industry as being one of Hollywoods's 'most active digital dealmakers.' which means he would be able to effectively adapt my media product into an interactive game. This would ensure extra revenue and also expand the distribution of my product beyond the big screen. Interactive gaming is popular with the younger demographic which is my target audience meaning producing an interactive game of my media product would further appeal to my target audience.
7. I expect Lionsgate to be the perfect media institution to distribute my media product for many reasons. Firstly it has a reputation for producing and/or distributing independent, original films. As my horror film is independent Lionsgate will have adequate experience in how to distribute my product.
8. Lionsgate also have experience is producing and distributing franchises, with its most successful being "The Hunger Games" and "Divergent." However it was previously known for producing and distributing the "Saw" Franchise, for which it holds many box-office records including 'most profitable horror film' (Saw), 'best opening figures for a horror sequel ' (Saw II), 'widest release in Lionsgate history' (Saw II) and The entire franchise being the fifth highest grossing horror franchise. This proves that Lionsgate known how to effectively distribute horror films and how to create a horror franchise that produces a large amount of revenue.
9. The main demographic for Lionsgate is young adults as shown by their common certifications (12, 15, 18) and Lionsgate Premiere and the target audience for my product is teenagers and young adults, so Lionsgate will be able to help distribute my product to the desired younger demographic.
10. Lionsgate Entertainment has multiple divisions that could aid the production of synergy for my product. Lionsgate Television provides the opportunity for a spin-off TV series for my product, which would spread the target audience to families, or people who cannot leave the house. Lionsgate Interactive would create the opportunity for interactive gaming based on the premise of my product which would not only appeal to the younger demographic (who stereotypically enjoy interactive gaming) but it would also appeal to workers who travel around and use mobile gaming as a form of entertainment. These could also produce extra revenue, with successful examples including "Limitless" (TV series based on "Limitless" film) and Candy Crush Saga (Interactive game available on mobile devices and computers.)
11. Lionsgate Films is Canadian/American Film Production/Distribution Company that was founded in 1962 under the title "Cinéplex Film Properties"
12. Production/Distribution Company- "Lionsgate Films"
13. Common Genres and Certifications
14. Budgeting
14.1. Spanish
14.1.1. Midterm
15. Lionsgate Films produce a wide range of films from a variety of genres. They are known for producing a number of popular film series such as :"Saw" (horror), "The Hunger Games", "The Divergent Series" (Science Fiction, Dystopia) and "The Twilight Series" (Science Fiction, Romance, Teenage Fantasy.)
16. This makes Lionsgate suitable for distributing my product as they have experience with producing and distributing films of all sorts of genres and sub-genres. This would open possibilities for genre hybridity for current and future products (for example horror/thriller, supernatural horror/documentary, psychological thriller/horror/fantasy.) There is also the possibility to make a film series given Lionsgate's success with distributing The Hunger Games Franchise (and the series being its highest grossing product.)
17. As Lionsgate produces so many different films of different genres it can be hard to determine what their common film certifications are. The average film certification of all of the films distributed and produced by Lionsgate Films is 12. The average film certification for all Horror films distributed/produced by Lionsgate is 18
18. They focus on foreign and independent films, which would prove beneficial for the distribution of my media product as it is planned to be an independent film.
19. My media product is going to have a 15 certification as my target audience is teenagers and young adults. A 12 rating would restrict the content of my horror film in accordance to the guidelines of the BBFC, whilst a rating of 18 would limit my target audience age range. As Lionsgate have experience of distributing horror films with an average certification of 18 they would know how to appropriately distribute my product to the right target audience.
20. Some examples of the horror films produced/distributed by Lionsgate include: "Saw 1-VI, Saw Legacy, Saw: The Final Chapter ( 18 certification)", "American Psycho (2000, 18 certification), "Texas Chainsaw 3D (2013, 18 certification) and "Book of Shadows: Blair Witch 2 (2000, 15 certification)
21. In January 2013, Lionsgate Films announced the creation of a low-budget film division to be headed by John Sacchi, which would release films with a budget of $2.5 million (£,1758,831) or less. This would help with the choice of media institution to distribute my media product as it would allow the opportunity for my independent film to have a low-budget yet still be distributed by a well-known institution.
22. When Lionsgate distributed "Saw" in October 2009 it had an approximate budget of $1.2-1.4 million (£844,020-£984,690.) It grossed $18.2 million (£12,800,970) in its opening weekend, and $121,999,335 (£85,808,232) worldwide. It became the most profitable horror film after "Scream" in 1996 and, at the time, became the widest release in Lionsgate history and one of the best opening weekends for a horror film
23. This influenced my decision to have Lionsgate Films as the institution to distribute my media product as Saw had a relatively low budget (especially when you take the mise-en-scene into account) and it grossed such a huge profit. It was not a remake of a previous film, or an adaptation of a book or story etc. (like my horror film) which proves that Lionsgate can effectively distribute an original film with a low budget and still make a large profit.
24. The Saw Franchise is the fifth highest grossing horror-film franchise in America and Canada, bringing Lionsgate $457.4 million profit from the US and Canada alone. This means that if I was to create a horror film series off of my media product, Lionsgate have an excellent reputation with distributing franchises and bringing in large profits from all of the individual films and the overall franchise itself.