signposting mind map
by Luke Flegg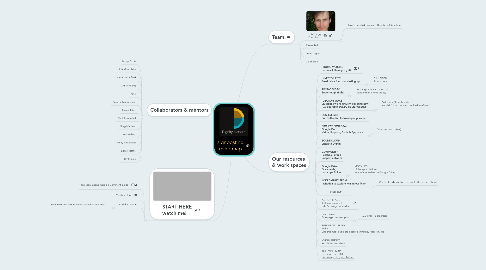 1. Team
1.1. Luke Flegg Founder
1.1.1. Luke's needs & desires in Dignity collaboration
1.2. Pasco Jack
1.3. Anna Jagric
1.4. Jo Thorpe
2. Collaborators & mentors
2.1. Morya Scott
2.2. Alicia Montplaisir
2.3. Jordan Mansfield
2.4. Chris Walling
2.5. Kate
2.6. Alex Petherick-Brian
2.7. Malek Jaber
2.8. Sholi Lowenthal
2.9. Greg Madison
2.10. Jess Walker
2.11. Jenny Andersson
2.12. Daniel Harris
2.13. Tildy Stokes
3. Our resources & work spaces
3.1. PROMO WEBSITE (not much there just yet)
3.2. INVESTOR PITCH Read this + fund our starting up!
3.2.1. FULL PITCH 5+ mins read
3.3. PROMO VIDEO Super rough draft!
3.3.1. Pitching Dignity in video call! (longer than promo video)
3.4. IDEATION SPACE Questions we're actively exploring now (Collaborative inquiry on Stormboard)
3.4.1. Old space (Stormboard) We didn't like it as much as RealtimeBoard
3.5. Detailed pitch For Outlandish Fellowship application
3.6. PROJECT PROPOSAL Google Doc Vision, Purpose, Goals & Approach
3.6.1. Older version (Luke's)
3.7. SOUNDCLOUD Listen to Dignity
3.8. COMMUNITY Facebook group Support network
3.9. Google Drive Documents, mock ups & files
3.9.1. MOCK UPS of the app/ platform (one of the folders on Google Drive)
3.10. JOIN DIGNITY TEAM Invitation to explore joining our Team
3.10.1. Who's already involved (or would like to be) + how?
3.11. --------- other stuff ---------
3.12. ACTION SPACE Task management (who's doing/ done what)
3.13. Lean canvas One page business plan
3.13.1. v2.0 (work in progress)
3.14. RESOURCE LIBRARY Trello Like this map, but more detailed (funding, research, etc)
3.15. Dignity platform Very basic prototype
3.16. THIS MIND MAP as a shortened URL http://tiny.cc/dignityplatform
4. START HERE watch me!
4.1. This icon means there's a Comment inside
4.2. This is a Note
4.3. And this is a URL
4.3.1. Use ENTER and TAB to create branches and twigs