Final project. activities according to the distribution of time in the EMTEFA.
by Luis Mosqueda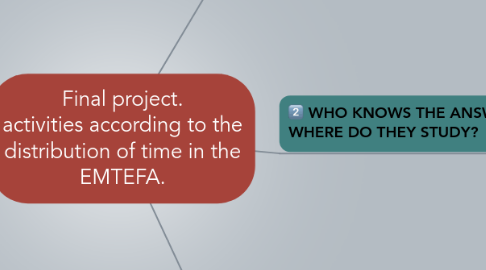 1. THEY EAT LUNCH EVERY DAY AND WHERE ARE YOU DOING?
1.1. In the morning when we wake up we are prepared to run and we lay our beds..
1.1.1. These two issues have grammatical approach as affirmative sentences and negative sentences, referring to work-out the day using the present tense. The most important verb in English is the verb to be..
1.1.2. We use the present continuous when we want to describe what we are doing right now.
1.2. before school spent in the breakfast room, breakfast Monday through early Friday.
1.3. At noon classes end, and then go to sports, and at two in the afternoon is lunchtime.
1.3.1. As well as ask questions with do and does Use the Do and Does,does / does used to ask and deny the "Present Tense" virtually all verbs except "to be" and auxiliary verbs.
1.3.2. DO, is used with I, You, They, We
1.3.3. DOES Is used with He, she, It
2. WHO KNOWS THE ANSWER? AND WHERE DO THEY STUDY?
2.1. What does she teacher speak? the teacher is a good speaker of English language your goal is to teach everyone in this institution
2.2. When do they study? we studied all week,
2.2.1. The simple present tense in English is used to describe an action that is regular, true or normal.
2.2.2. wh used for informational questions as there are two types of questions the closed and open.
2.3. Where they are rightnow? right now I'm inside the bedrooms.
2.3.1. These two topics discuss information as well as answer questions about times within the school focused on grammar.
3. WHEN DOES THE BUS LEAVE?, WHERE ARE YOU FROM? AND SGT BROWN WAS HERE YESTERDAY?
3.1. I always stydy late? sometimes is used at the beginning or at the end of the sentenses.
3.1.1. Lesson 20 is based on answer and ask about issues regarding school for example, what time you eat, where you live? speak English? but having reference to grammatical approach the words always, sometimes, never.
3.2. The students are cold today. I wasn't un spain last year
3.2.1. Item 22 has the grammatical approach the verbs in the past.
3.2.2. In this case "were" can mean "they were" or "were". in this case "was" can mean "he was" or "was".
3.3. I have many jobs to do this week as well as activities in the course of the day. December last year we were very busy because it was the end of the course and had first vacation.
3.3.1. Item 21 is to focus a little conversation related in different expressions.