BELUGA WHALES DELPHINAPTERUS LEUCAS ALSO NAMED AS THE SEA CANARY
by
Biby Abraham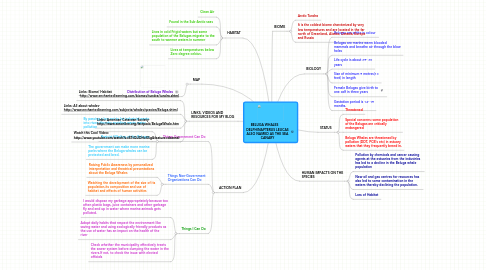 0.0
stars - reviews range from
0
to
5
BELUGA WHALES DELPHINAPTERUS LEUCAS ALSO NAMED AS THE SEA CANARY
HUMAN IMPACTS ON THE SPECIES
Pollution by chemicals and cancer causing agents at the estuaries from the industries has led to a decline in the Beluga whale population
New oil and gas centres for resources has also led to some contamination in the waters thereby declining the population.
Loss of Habitat
ACTION PLAN
Things Government Can Do
Things Non-Government Organizations Can Do
Things I Can Do
LINKS, VIDEOS AND RESOURCES FOR MY BLOG
Links: Biome/ Habitat -http://www.enchantedlearning.com/biomes/tundra/tundra.shtml
Links: All about whales- http://www.enchantedlearning.com/subjects/whales/species/Beluga.shtml
Links: American Cetacean Society- http://www.acsonline.org/factpack/BelugaWhale.htm
Watch this Cool Video: http://www.youtube.com/watch?v=BTtQUDH2XSg&feature=channel
BIOLOGY
Belugas are white in colour
Belugas are marine warm blooded mammals and breathe air through the blow holes
Life cycle is about 25- 30 years
Size of minimum 5 metres(16 feet) in length
Female Belugas give birth to one calf in three years
When the calf is born, it is about 4-5 feet long and weighs about 45- 64 kg. The calves are blue to brownish red for the first year of the life. During the second year they turn grey to blue and by the end of six years they turn white. The baby is nurtured with its mother's fat- laden milk which is about 28% fat. It is weaned in about 12-24 months and they reach maturity by 7-9 years.  
Gestation period is 14- 15 months.
BIOME
Arctic Tundra
It is the coldest biome charcterized by very low temperatures and are located in the far north of Greenland, Alaska, Canada, Europe and Russia
HABITAT
Clean Air
Found in the Sub-Arctic seas
Lives in cold Frigid waters but some population of the Belugas migrate to the south to warmer waters in summer
Lives at temperatures below Zero degree celcius.
STATUS
Threatened
Special concerns: some population of the Belugas are critically endangered
Beluga Whales are threatened by pollution (DDT, PCB's etc) in estuary waters that they frequently breed in.
MAP
Distribution of Beluga Whales