Wacom Dock app
by Sammy Dekeijne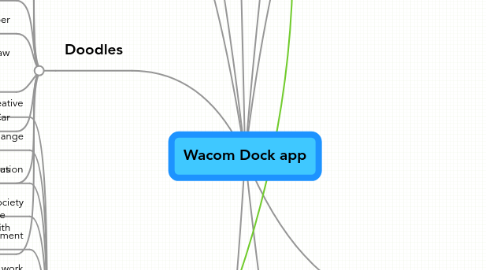 1. Writing
1.1. Typo
1.1.1. Musictypo
1.1.2. Typography design app for beginners
1.2. Custom Handwriting
1.3. Post-Crossing
1.4. Themes
1.4.1. Sinterklaas poems
1.4.2. Occasion/theme (Valentine)
1.4.3. Christmas
1.4.3.1. Create your own Santa's Elf
1.4.3.2. Make an Elf of on of your friends (totally worth sharing!)
1.5. Pen pals
1.5.1. Write virtual letters to a random person in the Bamboo community (*)
1.6. Stories
1.6.1. Illustrating your book with these nice uppercase letters
1.6.2. Illustrate book with pictures
2. Sharing Factors
2.1. Laughter
2.1.1. Photoswap/drawingswap: draw each others funny picture on the webcam live image.
2.2. Shock
2.2.1. Zombie slash game
2.2.2. Murder investigation app
2.2.3. Vampire apocalypse app. Slash Vampires with cool gestures and all kinds of weapons!
2.3. Surprise
2.4. Inspiration
2.4.1. Sharing photo albums, photoswap app
2.5. Cuteness
2.5.1. Your bamboo Pet
2.5.2. Baby day care app
2.6. Originality
2.7. Nostalgia
2.7.1. Puzzle app. (think of ravensburger puzzles)
2.7.2. Boardgames app (Monopoly, Battleship, stratego)
2.7.3. Sherlock Holmes App.
2.8. Competition?
2.8.1. Scores
2.8.2. Midget Golf game
2.8.3. Beat 'em up fighting game
3. Music
3.1. Piano hero app: Play piano songs and compete with the community (Think of Guitar hero)
3.2. Lead Orchestra app.
3.3. Music mash up app!
3.4. Transform your voice by drawing a line in the audio
3.5. Music Quiz app.
3.6. Music share app.
3.7. Draw out melody lines for different instruments (fatter lines==louder) (*)
4. Cooking
4.1. Slicing vegetables
4.1.1. Gestures; throw food in saucepan
4.2. Mix your Cocktails app
4.3. Coffee App.
4.4. Recipe sharing (make your own cooking recipes in the app and SHARE)
5. Doodles
5.1. puppets
5.2. animation
5.3. sketching lessons
5.4. Trace the drawing app: learn to draw by drawing over other drawings with instructions
5.5. Making your own wallpaper
5.6. Custom Comic book app. Cut, draw and paste comics in a whole new story
5.7. Draw a rocket / Car
5.7.1. The best rocket goes higher (more points)
5.8. Versus
5.8.1. Two people have to draw a list of objects in correct order, as fast and accurate as possible (*)
5.9. Top-down driving game where you have to dodge objects with the pen
6. Traveling
6.1. Photoalbum: scrapbook!
6.2. Road trip! A travel quiz app! In which you travel the world virtually and compete with other community members in a travel quiz. Answer questions right and you continue to an other place (includes also information about the places) (*)
7. Creative
7.1. Make photo collages (cut & paste)
7.2. Origami
7.3. Design interactive environments
7.3.1. Share on facebook
7.3.2. Twitter wallpaper
7.4. Design post cards
7.5. logo design app
7.6. Make panoramas of your photos
7.7. Quick'n'Dirty little movie edit app. (cutting, pasting small videos, make animations, etc)
7.8. Virtual crafts design app. (cut, paste, paper, carton, color, glue things together, find materials, make something hand made with it) (*)
7.9. Make your own fashion line (draw, cut, paste, sow, etc)
8. Other
8.1. Navigate characters by tilting the world (Rocoloco) by using gestures. Help characters by drawing & erasing
8.2. Snow ball fight!/ Snow games
8.3. Virtual museum app
8.4. Panda chat app. Let Bamboo community communicate through this app.
8.5. Create your own Bamboo application app. Send in concepts and designs in an easy way. (Dragon's Den? The best idea wins?)
8.6. RSS feed share app (different gesture for browsing through the rss feeds)
8.7. Brain training/IQ app (Person gets a set of questions/assignments to do and compare results with others
8.8. Kill your darlings
8.8.1. Load in twitter avatars from your friends
8.8.2. Slice avatars as they are your enemies
8.8.3. Earn hp-points by slicing your friends ("darlings"), the more hp, the stronger you are
8.8.4. Keywords; social, competition, sharing
8.9. Dance app. Make dance moves by making different pen tool gestures. Do a dance off with friends or create your own dance sequence and share it with community. (*)
9. Generation Y
9.1. Creative
9.2. Change
9.3. Innovation
9.4. Care about Society
9.5. Environment
9.6. Volunteer work
9.7. Non-profit, socially involved in causes
9.7.1. Play mini-games like collecting water, build food and earn points to help out an organisation.
9.8. flexible
9.9. Knowledge of technology
9.10. Meaningful experiences
9.11. Fun
9.12. Optimistic
9.13. Social
9.14. Social networks
9.15. Family & Friends
9.16. Image & Status is important
9.17. Travel
9.18. Discover
9.18.1. Treasure hunt app.
9.18.2. Archeology app. digg up old stuff, learn about it while doing it (*)
9.19. Authenticity
9.20. Brands
9.21. Individuals
9.22. Independent
9.23. Personal Growth, self-learning
9.24. Idealistic