Advanced RESTful Rails
by
Luismi Cavallé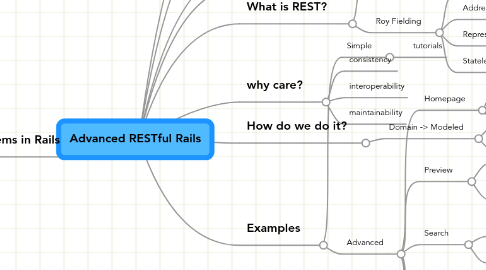 0.0
stars -
0
reviews range from
0
to
5
Advanced RESTful Rails
Ben Scofield
Constraints
Improves creativity
Poetry
Music
Rails, dir structure, resource generator, REST
Point of REST => producticity increase
How do I handle?
Difficult (even for the pros)
What is REST?
not a philosophy
Roy Fielding
Resources
Addresability
Representations
Stateless (REST in Rails)
why care?
consistency
interoperability
maintainability
How do we do it?
Domain -> Modeled
1. Identify resources
2. Select methods to expose, Respect the middle man, join models! memberships, friendships, etc...
Examples
Simple
tutorials
Advanced
Homepage, resource:homepage, depends on the content, resources :ads, resource :dashboard
Preview, Untitled, resources :post resource :preview
Search, map.resources :posts and use the index, resource :search (for several controllers) (he uses a Searcher model in the controller)
Wizards, galleries/new restaurants/:id/photos/create restaurants/:id/photos/edit resources :galleries resources :restaurants, :has_many => [:photos] with_options :controller => 'options' do p.update_restaurant p.edit_restaurant
Collections
Web services
Problems in Rails
Accesibility
Hand-written routes
default routing is devil