PLACENTA PREVIA
by Waldo Mcwane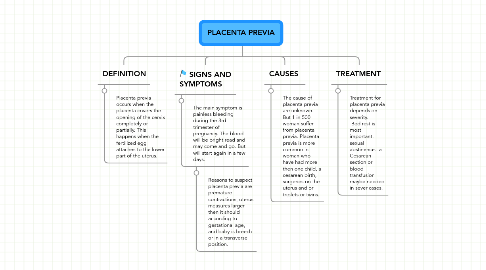 1. SIGNS AND SYMPTOMS
1.1. The main symptom is painless bleeding during the 3rd trimester of pregnancy. The blood will be bright read and may come and go. But will start again in a few days.
1.1.1. Reasons to suspect placenta previa are premature contractions, uterus measures larger then it should according to gestational age, and baby is breech or in a transverse position.
2. CAUSES
2.1. The cause of placenta previa are unknown. But 1 in 500 woman suffer from placenta previa. Placenta previa is more common in woman who have had more then one child, a cesarean birth, surgeries on the uterus and or triplets or twins.
3. TREATMENT
3.1. Treatment for placenta previa depends on severity.            Bed rest is most important. sexual abstinence.. a Cesarean section or blood transfusion maybe needed in sever cases.
4. DEFINITION
4.1. Placenta previa occurs when the placenta covers the opening of the cervix completely or partially. This happens when the fertilized egg attaches to the lower part of the uterus.