"Paying the Bills" by Andrew Roberts
by Andrew Roberts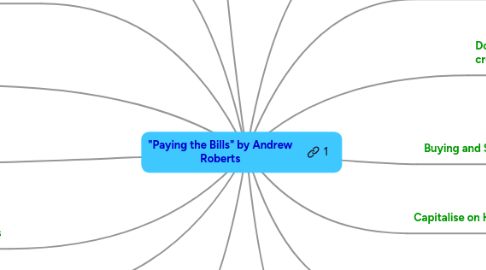 1. Property
1.1. Llwyncelyn
1.1.1. Capital Gains
1.1.2. Holiday Cottage
1.2. Bryn Helyg
2. Pension
3. Benefits
3.1. Tax Credits
3.2. Child Benefit
3.3. JSA
3.4. HMRC
3.5. Turn2us.org.uk
3.5.1. Advice on possible grants and benefits available
3.6. CSA
4. Earned
4.1. Self-Employment
4.1.1. Living Willow Wales
4.1.2. AJR Computing
4.1.3. Rejuvanessence
4.1.4. New Business Ideas
4.1.4.1. "Create and deliver value" - Steve Pavlina
4.1.4.2. Collaboration
4.1.5. Writing
4.1.5.1. Nice idea but I'm a techy not a writer
4.2. Employment
4.2.1. Get a job - yeah, right!
5. Passive Income Streams - PIS
5.1. Online Advertising
5.1.1. Google Adsense
5.1.2. Increase web traffic
6. Commodities
6.1. Gold
6.2. Grain
7. Grants
7.1. Perennial -
7.1.1. Garderner's Royal Benevolent Fund - Support for Agricultural workers
7.2. Turn2us.org.uk
7.2.1. Advice on possible grants and benefits available
8. Saving Money
8.1. Making stuff
8.2. Swapping Stuff
8.2.1. Readitswapit.co.uk
8.2.1.1. Swap books
8.2.2. Freecycle
8.2.2.1. People list things they no longer want and offer them for free
8.3. Free Stuff
8.3.1. www.Searchfreebies.co.uk
8.4. Communications
8.4.1. Skype
8.5. Nights Out
8.5.1. ApplauseStore.com
8.5.1.1. From the X Factor auditions to comedy tours, this website offers thousands of free televison and radio audience tickets
8.6. Food Shopping
8.6.1. mysupermarket.co.uk
8.6.1.1. Compare prices and shop at Tesco, Asda, Sainbury's and Ocado
8.6.2. Fixtureferrets.co.uk
8.6.2.1. This website promises to save you £120 or more on your grocery bill by 'ferreting' out the best supermarket offers and discounts. You do have to pay to benefit – but at 10p a week (£5.20 a year) it's not exactly going to break the bank.
8.6.3. Quaffersoffers.co.uk
8.6.3.1. Searches current supermarket and off-licence wine offers before they happen.
8.6.4. Asda.com
8.6.4.1. Now delivering to Lampeter - apparently, wouldn't recognise my postcode although I've seen the vans in Lampeter
8.6.5. Wholesalers
8.6.5.1. Suma
8.6.5.2. Good Food Distributors
8.7. Vouchers
8.7.1. Vouchercodes.co.uk
8.8. Holidays
8.8.1. UKholidayswapshop.co.uk
9. Equities
9.1. Unit Trusts
9.1.1. UK - Risk 4
9.1.2. Global - Risk 5
9.2. Fixed Interest Bonds
9.2.1. Government Gilts - Risk 2
9.2.2. Corporate Bonds - Risk 3
9.3. Guaranteed Equity Bonds / Structured Products
9.4. Distribution Funds - Risk 2.5
9.5. Investment Trusts - Risk 4
9.6. Guaranteed Income Bonds
9.6.1. Guaranted income over a certain period, however usually very low. More of an obsolete traditional option
9.7. Indidual Shares - Risk 5
9.8. Mixed Portfolio based on risk aversion
9.9. Inflation - CPI = 3% Oct 2010
9.9.1. Investment has to return more than this or it is decreasing in value in real terms
10. Buying and Selling online
10.1. eBay.co.uk
10.2. Boffer.co.uk
10.2.1. Fans of boffer.co.uk say it's changed their lives – or, at least, changed their daily schedules. Each night at 11:59pm, one deal will be put online with an attention-grabbing price tag. This offer will either last until 11:59 the next night, or until it has sold out. The site buys up bankrupt, overstock, clearance and closeout consumer electronics products, and then sells it to you. The real draw is when the site holds a 'Boffer Off' – this means that as soon as an item sells out, it will be replaced instantly for up to 72 hours or until the stock runs out.
10.3. BumblebeeAuction.co.uk
10.3.1. Bumblebeeauctions.co.uk This website sells lost property that's handed in to the police and not claimed after a month, as well as seized and shop-lifted goods.
11. Savings Account - Risk 1
12. Capitalise on Hobbies
12.1. Computers
12.2. Paragliding
12.3. Snowboarding
12.4. Crossstitch
12.5. Living Willow Structures
12.6. Playing Guitar
12.7. Reading
13. Bartering and Trading
13.1. Local Exchange Trading Systems - LETS
13.2. Just for the Love of it
13.2.1. Freecomony Community started by Mark Boyle the famous moneyless man, where people can offer their skills for free - "giving forward" rather than trading
13.3. SwapASkill.com
14. Don't try to earn money - create and deliver value
15. Renewables
15.1. Renewable Heating Initiative - RHI
15.2. Feed In Tariffs - FIT
15.3. Saving on Energy Bills