Function Software Manage, control, and organize family finances - OR - Financial Lifestyle-Management Software For Families and Households to Organize, Manage & Control Family Finances
by John Spitters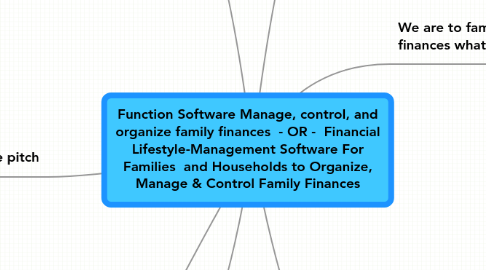 1. We are to family finances what...
1.1. Aspirin is to a headache
1.2. the second hand is to the clock
1.3. the map is to the road
1.4. a shoe is to a sock
1.5. a chair is to a table
1.6. a cell phone is to texting
1.7. Rock is to roll
1.8. a cuff is to a link
1.9. a lawnmower is to grass
1.10. Paris is to France
1.11. Rock is to Roll
1.12. an iPod is to music
1.13. Lawrence Taylor is to Quarterbacks
1.14. Eric Clapton is to a guitar
1.15. Twitter is to messaging
1.16. A machette is to weeds
1.17. A file cabinet is to papers
1.18. an iPhone is to your kids
1.19. IBM is to computing
1.20. Gasoline is to a car
1.21. A quarterback is to a football team
1.22. Tylenol does for the common cold
1.23. Intuit & Mint do for individual and personal finances
2. In conclusion...
2.1. Consumer debt
2.2. Alarm and urgency
2.3. One stop shop
2.4. Not found anywhere else
2.5. What would it be like to be part of an organization all the others wanted to be...
2.6. Imagine if you were a part of a solution that changed the way families behave with money...
2.7. While the things we do are mundane and not sexy, they impact people's lives everyday --- we make a difference that's easy and not complicated.
2.8. What would it be like if you asked yourself, "How cool would it be to be a part of something that no one has and that no one else is targeting?"
2.9. Imagine what it would be like to be a part of a company that upgrades the conversation about the quality of life for families who need and want to organize and manage their finances...
3. Best Ideas
3.1. the Golden Gate Bridge & Bay Bridge are to commuters
3.2. Structure of Pitch:
3.3. 1. What do we do?
3.4. 2. What problems do we solve?
3.5. 3. Why does this matter?
3.6. 4. Core benefits of solution
3.7. 5. Who uses it & why?
4. Different
4.1. Whiteboard discussion
4.2. Hand a SW box to the VC
5. Opening ideas
5.1. Cast to the wind and hope it turns out well
5.2. Flip a coin
5.2.1. Silver dollar / heads/tails
5.3. Dollars in the air
6. We do for family finances what...
7. 1 minute pitch
7.1. Opening
7.1.1. Intuit Analogy
7.1.2. Briefly describe pain
7.2. What is your product/service?
7.3. Who is your market?
7.4. What is your revenue model?
7.5. Who is behind the company?
7.6. Who is your competition?
7.7. What is your competitive advantage?
7.8. What type of coFounder do you seek?
7.9. Closing
7.9.1. Flip silver dollar
7.9.2. Function Software