The Facebook Business MindMap
by Dmytro Matvisyk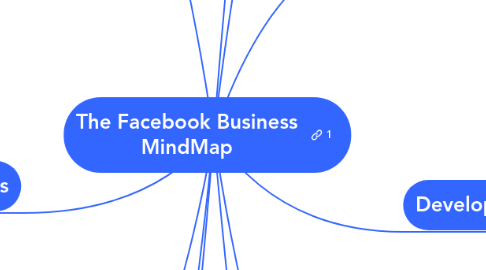 1. Fan Pages
1.1. How to resize your custom Facebook Page images
1.2. How To Build Your Facebook Landing Page (If You're Not A Programmer)
1.3. How to Create Fan-only Facebook Content with the Reveal Tab
1.4. The 8 Success Criteria for Facebook Page Marketing
1.5. How To Steal Your Competitor's Customers On Facebook
1.6. How to display photos and videos to a subgroup of your Facebook Page fans
1.7. How to embed a YouTube video into a Facebook Page tab
1.8. How to update your Facebook Page from your cell phone
1.8.1. How to Better Engage Facebook Fan Page 'Fans'
1.9. 13 little-know Facebook Page features
1.9.1. 4 Proven Steps to Facebook Page Success
1.10. How to collect email subscribers on your Facebook Page
1.11. How To Rank #1 In Facebook Search In 60 Seconds For Any Term
1.12. Likes
1.12.1. Engagement With Facebook "Likes" and Shares
1.12.1.1. 21 Creative Ways To Increase Your Facebook Fanbase
1.12.1.2. 10 Ways to Grow Your Facebook Page Following
1.12.2. How To Attract 57,000 Likes And Become Famous On Facebook
1.12.3. The Secret How To Get 35,000 Fans In 30 Days
1.13. SEO Strategies for Fan Pages
1.14. How to Sell Products via Your Facebook Page
1.15. How To Promote Your Business on Facebook Using RSS
1.16. HOW TO: Add Facebook Questions To Your Brand Page
1.17. How to Create Effective Facebook Wall Posts
1.18. How to Optimize Your Facebook Page for Visual Branding
2. Groups
2.1. New Facebook Groups
2.2. 4 Things Small Businesses Should Know About Facebook's New Groups
2.3. 10 Tips for Managing The New Facebook Groups
3. Apps
3.1. New Dashboard for Apps
3.2. HowTo Set Up Storefront on Facebook
4. Advertising
4.1. Sponsored Stories
4.2. How Advertising Works on Facebook
4.3. Facebook Ads
4.4. How to Use A/B Testing to Achieve Positive ROI on your Facebook Ads
4.4.1. What You Need To Know When Creating A Facebook Advertising Budget
4.5. 4 Ways to Improve Ad Performance on Facebook
4.5.1. CPM vs CPC: Which Should You Use For Facebook Ads?
4.5.1.1. CPM vs CPC: Which Is Better For Facebook Ads? Round 2
4.5.2. One Killer Tactic To Boost Your Facebook Ad Performance
4.5.3. The Most Powerful Secret In Facebook Ads
4.5.4. THE Single Critical Factor For Successful Advertising On Facebook
4.6. The Facebook Marketing Dictionary
4.7. 18 Tips to Grow your Fans via Facebook Ads
4.7.1. 10 Facebook Advertising Tips For Brilliant Marketers
4.7.1.1. How To Get 40,310 Facebook Fans In 4 Days
4.7.2. How To Calculate The Cost Per Fan On Facebook Ad Campaigns
4.8. How To Scale Facebook Ad Campaigns
5. Profile
5.1. Tips for Getting More Out of your Facebook Updates
5.2. Privacy
5.2.1. How To Configure The New Facebook Privacy Settings
5.2.2. Advanced Security Features
5.2.3. Controlling Sharing
5.2.4. How To Download Your Information from Facebook
5.2.5. How to Optimize Your Facebook Privacy for Business
5.3. Facebook Messages
5.4. Photos
5.4.1. New Features for Facebook Photos
5.4.2. How to Disable & Opt Out of Facebook Photo Tagging
5.5. How to Convert a Facebook Profile to a Page
6. Deals
6.1. Discovering Deals
6.2. How to Create a Facebook Deal
6.3. Finding Deals
6.4. The Complete Business Guide To Facebook Deals
7. Places
7.1. How To Controlling Your Information on Places
7.2. How SMBs Can Start Using Facebook Places Now
7.3. How To Use Facebook Places For Your Business
7.3.1. The Video Guide to Facebook Places for Businesses
8. Development
8.1. Social Plugins
8.1.1. How Social Plugins Work
8.1.2. How to add a Facebook LikeBox to your website or blog
8.1.3. HOW TO: Use Facebook Social Plugins on Your Website
8.1.4. The Like Button Style Guide: How to Pick the Design That's Right for Your Website
8.1.5. Like Plugin
8.1.5.1. How to Choose Open Graph Tags That Maximize the Value of Your Like Buttons
8.1.5.2. The Facebook Like Button Placement Guide for Websites
8.2. Apps
8.2.1. App Request Notifications Lead to Apps
8.2.2. HTTPS URLs for Page Tab Apps
8.2.3. How to Set up a Facebook Custom iFrame Landing Page Application
9. Analytics
9.1. How to use Facebook Page insights to measure
9.2. A Beginner's Guide to Facebook Insights
9.3. The Value of a Social Media Fan….Priceless
9.4. Inside Facebook Pages
9.5. How to Activate Facebook Insights for Your Website
10. Stats
10.1. When Are Facebook Users Most Active?
10.2. Reasons People 'Unlike' Brands on Facebook
10.3. Facebook Photos By the Numbers
10.4. How Facebook Users Clicked During The Average 20 Minute Period
10.5. The Anatomy of the Facebook Status Update
10.6. REPORT: Facebook Posts Are Best On Thursday
11. Tips
11.1. Post to Your Facebook Page Every Other Day for the Most Likes
11.2. Facebook Shortcut Keys
11.3. Using Facebook Credits for Loyalty Programs and Beyond
11.4. How to Measure Your Facebook Engagement
11.5. Automatically Moderate Your Page
11.6. Posting Fans As Your Business
11.7. Allow Your Fans To Tag Themselves In Photos
11.8. Target Status Updates
11.9. How to Encourage Engagement on Facebook