Summit at the Pier Social Media Marketing Idea's
by Rebecca Kerswell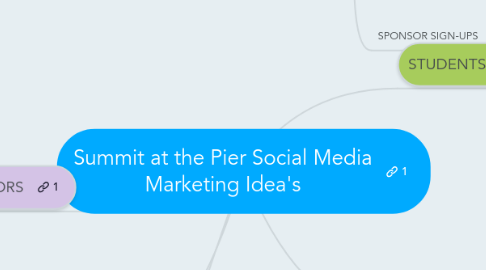 1. TEACHERS
1.1. GOAL: Register your class
1.2. ENGAGEMENT: Contests to engage their classroom/students - Students can submit articles written in class and the winners will be showcased on Summit website and social media - student will also win Summit Swag
1.3. NEWSLETTER: A teacher is a customer for life, get them to signup for the newsletter to stay informed on Summit news, announcements, promotions, giveaways, ways to engage classroom, etc.
2. STUDENTS
2.1. GOAL: Like & Follow Summit on Social Media - Get them to share posts to reach other students
2.2. REACH: Use contests, classroom blog submissions, to reach students
2.3. ENGAGEMENT: Run weekly or bi-weekly contests giving away cool items that students can do over the summer or on the weekend with their friends
3. SPONSORS
3.1. CONTESTS: Provide giveaway items that will engage students
3.2. GOAL: Looking for social media shares
3.3. REACH: Creating Ripl posts that showcase the sponsor, tagging them in the posts
3.4. ENGAGEMENT:
3.5. PROMOTION: Include a 'Call for Sponsors' at the end of the video - always include IIM logo
4. PARENTS
4.1. GOAL: Register your child
4.2. ENGAGEMENT: Motivate parents through pricing > Early Bird Deadlines
4.3. REACH: Facebook & Instagram ADVERTISEMENTS
4.3.1. Use Ripl to create video ads
4.3.2. If budget is LOW, consider combining ad with a 'Like & Share' giveaway to expand reach
5. PAID SOCIAL ADVERTISEMENTS
5.1. FACEBOOK AND INSTAGRAM
6. CONVERSIONS
6.1. NEWSLETTER SUBSCRIPTIONS
6.1.1. Audience: Teachers
6.1.2. Purpose: To promote next year's events
6.2. TICKET PURCHASES
6.2.1. Audience: Teachers & Parents
6.2.2. Purpose: Make event happen
6.3. BLOG/ARTICLE SUBMISSIONS
6.3.1. Audience: Students
6.3.2. Purpose: To engage audience
6.4. CONTEST ENTREES
6.4.1. Audience: Students
6.4.2. Purpose: To expand reach/awareness about event
6.5. SOCIAL MEDIA LIKES & FOLLOWS
6.5.1. Audience: Teachers & Students
6.5.2. Purpose: To showcase reach & popularity of event, to engage, educate, and promote event
6.6. SPONSOR SIGN-UPS
6.6.1. Audience: Vancouver Island business - which industry?
6.6.2. Purpose: To make event work, to contest prizes, to promote and reach, to add legitimacy to event